SpaceX rocket launch aborted due to technical difficulties, rescheduled for Sunday- NASA (VIDEO)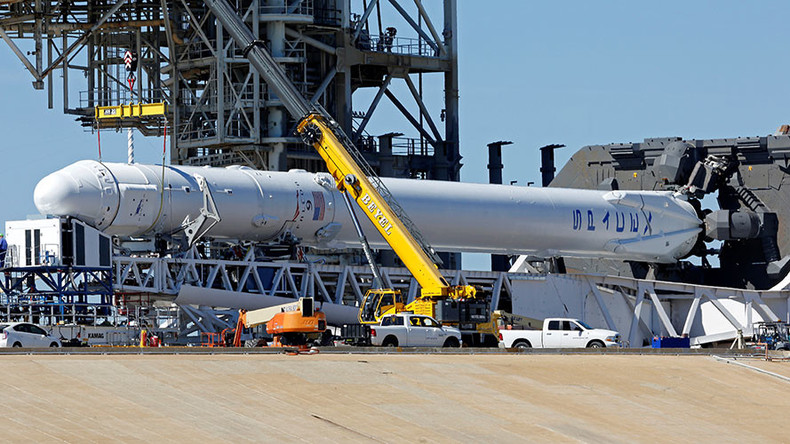 Saturday's scheduled launch of SpaceX's Falcon 9 rocket has been delayed due to technical issues. NASA said in a tweet that it was due "to a second stage thrust vector control issue." The launch has been rescheduled for Sunday morning.
With a mere 13 seconds remaining until blast off, SpaceX confirmed that they were "standing down" to examine one of the engine nozzles, adding that Sunday at 9.38am ET was the "next earliest launch opportunity."
SpaceX CEO Elon Musk tweeted that the "movement trace of an upper stage engine steering hydraulic piston was slightly odd," adding that his team "need to make sure that it isn't symptomatic of a more significant upstream root cause."
The purpose of the engine nozzle is to steer the rocket in the second stage of the launch, according to TechCrunch.
Musk said that there was a 99 percent chance the issue would "be fine… but that 1% chance isn't worth rolling the dice. Better to wait a day."
The rocket was due to dock at the International Space Station with its 5,500 lbs (2494 kgs) of cargo, which included the deadly superbug MRSA, as part of an experiment to examine how the bacterium will mutate in low gravity environments, with a view to improving antibiotic efficacy on Earth.
READ MORE: SpaceX to deliver superbug to ISS – so we can kill it faster in future
The launch was to be the tenth of 20 resupply missions to the ISS that SpaceX has been contracted to carry out for NASA and was the first to lift off from the Launch Complex 39A (LC-39A) platform at the Kennedy Space Center in Florida.
In September 2016, SpaceX also suffered an unsuccessful launch after one of their Falcon 9 booster rockets exploded on a launch pad at Cape Canaveral. On board the rocket at the time was a satellite which Facebook was hoping to use to provide broadband access in Africa.