'Tear him apart!' Kids thrash Trump piñata during Chicago protest (VIDEO)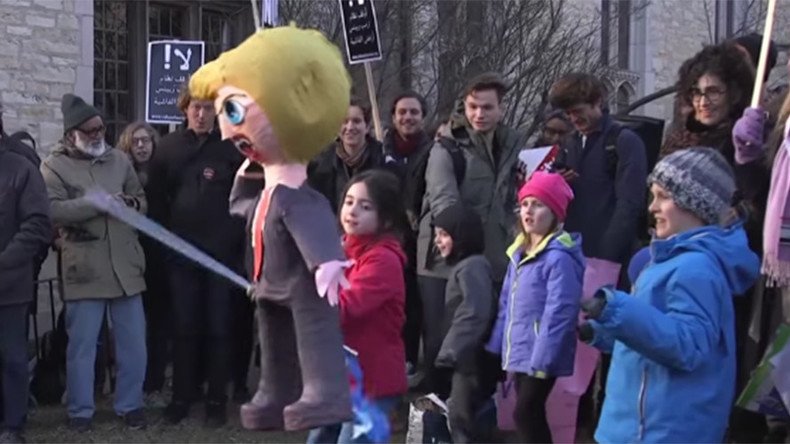 A Donald Trump-shaped piñata bore the brunt of protesters' fury on Wednesday, when a group demonstrating outside the University of Chicago strung up an effigy of the president and encouraged kids to batter it.
The scheduled appearance of US President Donald Trump's former campaign manager Corey Lewandowski at the university prompted the protests.
READ MORE: Trump campaign manager arrested for assaulting Breitbart reporter
During his time at the helm of Trump's presidential campaign, Lewandowski was involved in a physical altercation with Breitbart reporter Michelle Fields. Lewandowski was charged over the incident, but the charge was later dropped. The 43-year-old left the Trump team in June 2016, making way for Kellyanne Conway, and went on to become a political commentator on CNN – a post he has also since left.
Video from an anti-Lewandowski rally shows how a miniature piñata resembling President Trump was tied to a tree outside the university. Children were then encouraged to take out their frustration on the effigy with sticks.
In the clip, protesters can be seen carrying anti-fascist posters and messages for Lewandowski to "go home." At one point, the crowd cheers when the piñata is beheaded.
Up to 150 people protested outside the university's Institute of Politics, where Lewandowski was speaking at an "off the record" seminar entitled 'Inside Trumpism,' the Chicago Tribune reported.
READ MORE: Campaign manager who 'let Trump be Trump' unceremoniously dumped
The sold-out student seminar saw Washington Post journalist Robert Costa interview Lewandowski about "the rise of Trump, his time at the helm of the Trump campaign, and what lies ahead for the Trump presidency," according to program notes for the event.
You can share this story on social media: