Italian restaurant offers 5% discount to families with well-behaved children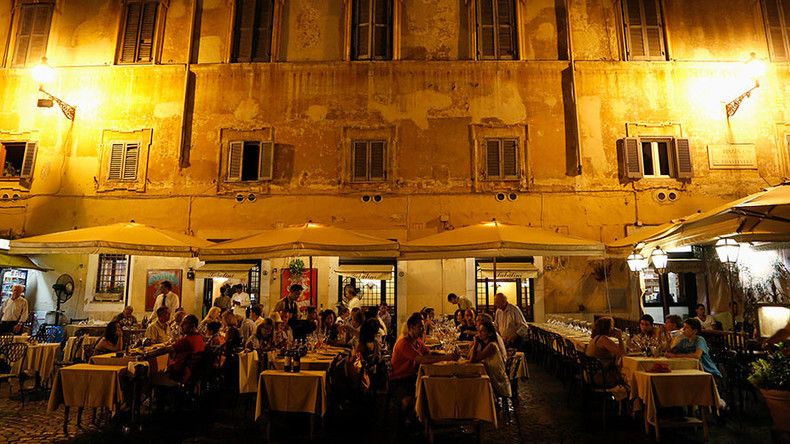 An Italian restaurateur has been offering discounts to families whose children display extraordinary etiquette as they partake of their meals while staying quiet and not ruining other customers' dining experience.
The five percent "well-behaved children" discount has proved to work in the local wine bar in Padua, where the owner Antonio Ferrari - living up to his name - was quick to devise the clever financial incentive to make children act according to the demeanor expected in public places.
If the kids remain quiet and do not disturb the meals of other people at the restaurant, their parents receive an extra discount on their final bill. Ferrari believes that children tend to act better if their parents apply the necessary effort needed to influence their behavior.
"When you get parents who are rude, the kids think they can doanything. They might climb on the tables with their shoes on, play in the bathroom and make a mess with the taps, or annoy the other customers," Ferrari told The Local.
Ferrari estimated about 30 percent of parents did not know how to handle their children at lunchtime, he told the Guardian.
The idea to offer the educational sort of discount came following a dining "spectacle" which Ferrari witnessed one Sunday afternoon. Sunday is when the wine bar gets family visits, unlike the weekdays where the wine-themed establishment caters for adults only.
While serving the table of six adults and five children, the 40-year-old businessman was particularly impressed when, after finishing their meals, the children at the table took care of themselves and allowed their parents to finish their meal.
After such a civil display, Ferrari decided to offer the family a five percent discount. A picture of the receipt shared on Twitter shows the €13.05 savings. As a return compliment, the family left a hefty €30 tip.
When asked by Corriere Della Sera if the discount was a PR move, Ferrari said: "No, honestly, it was instinctive. It was just lovely to watch how they were interacting at the table, with such composure."
While the practice has since been extended to other customers, Ferrari has yet to decide whether to make it a new tradition. The owner actually admitted to Corriere Della Sera that his inspiration came from a bar he had recently visited in Miami.
"I'd definitely offer the discount again, but I don't want to make it an official promotion or offer because that's not the point," Ferrari said.
You can share this story on social media: