Aussies 'melting' as record-breaking summer heatwave continues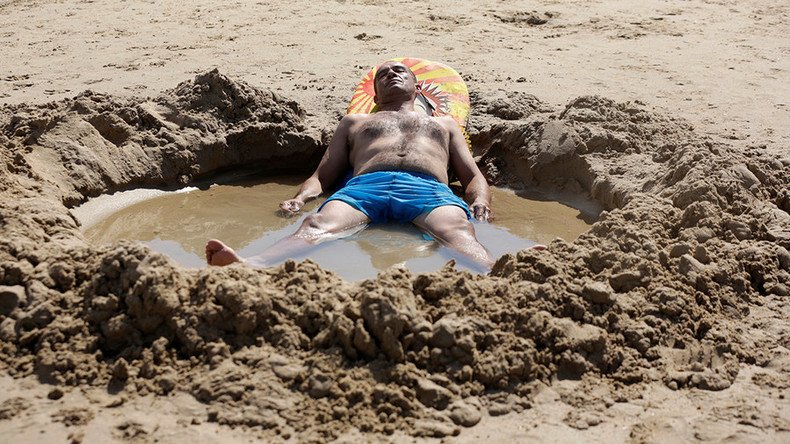 A heat wave has struck eastern and central Australia in what is officially Sydney's hottest summer on record, with temperatures soaring to 46 degrees Celsius (116F) in parts. The inferno is set to continue into next week before a brief respite.
Australia's Bureau of Meteorology has confirmed that in Sydney alone weather records have been smashed this summer, with temperatures of over 95F (35C) recorded on ten different days and Sydney airport reaching a whopping 109.2 degrees F (42.9C) on February 10.
As if that wasn't bad enough, Ivanhoe airport in the interior of New South Wales (NSW) recorded a bewildering high temperature of 116F (46.9C).
While heatwaves aren't a rarity in Australia, it seems some of the population just wasn't ready for such temperatures, although some did discover some rather useful side effects of such heat.
It seems Australians may have to get used to such temperatures as a recent report produced by the Climate Council of Australia says the number of hot days above 95 F (35C) should increase from 12 percent to 18 percent by 2030.
As Aussies try to avoid baking in the heat, electricity prices have skyrocketed to AUS$14,000 (USD$10,751) per megawatt hour, leaving the grid under immense pressure to stay online and keep the air conditioning going.
Heat waves are among the deadliest natural disasters humanity faces with roughly 52,000 Europeans having lost their lives as a result of the 2003 heat wave and 56,000 people estimated to have perished in the Russian heat wave of 2010.
Respite is expected toward the end of next week, as an approaching weather front will drag hot air southwards and give weary Aussies a breather.
You can share this story on social media: