Gasping for air: Man trapped beneath digger in mud-filled dam fights for life (PHOTOS)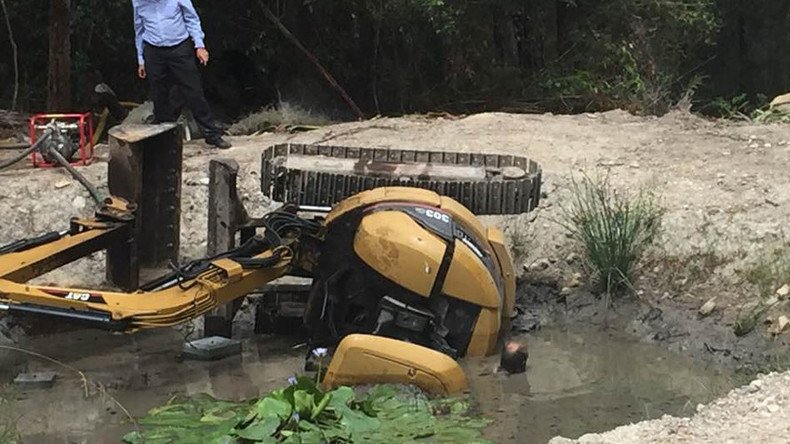 An Australian man used a yoga pose to keep his head just barely above water for almost two hours after falling into a dam on his property in New South Wales, Australia.
"I'm not a yogi but I guess you could say yoga saved my life. That and the will to live," Dan Miller, 45, told Sydney's Daily Telegraph.
Earlier this month, the father of two was operating an excavator on his property in Charlotte Bay, 289km (180 miles) north of Sydney, when the ground gave way beneath him causing the almost 3 metric tons (6,600lb) machine to trap him up to his neck in the dam.
"I was trapped and had to keep my head up above water using my arms, I guess it was the cobra position," he added.
Miller was spotted by a neighbor who raised the alarm and, along with local emergency services, helped pull him from the dam.
READ MORE: Vicious cycle: Hopping-mad kangaroo kicks cyclist in head (VIDEO)
Firefighters had to dig Miller out from underneath the excavator's roll cage before eventually freeing him. He was airlifted to a nearby hospital where he was treated for mild hypothermia and minor back injuries, as reported by NBN News.
Saimaa Miller, Dan's wife, took to Facebook to praise her husband's will to survive, saying:
"It was literally sheer mental strength and determination to survive that got him through. As well as being fit, strong and healthy. Nothing to do with luck. Legendary effort from a legendary man."
Miller discussed what was going through his mind throughout the ordeal, "To just give up - there's no way – I'm not letting my daughter... think about how they're gonna find me, face down in the dam, dead on my property. You can't. A four-year-old, nine-year-old and your wife... So that wasn't gonna happen. Or not without a fight."
You can share this story on social media: