'Liquid Illumination': Kayakers light way through night-time rapids in LED suits (VIDEO)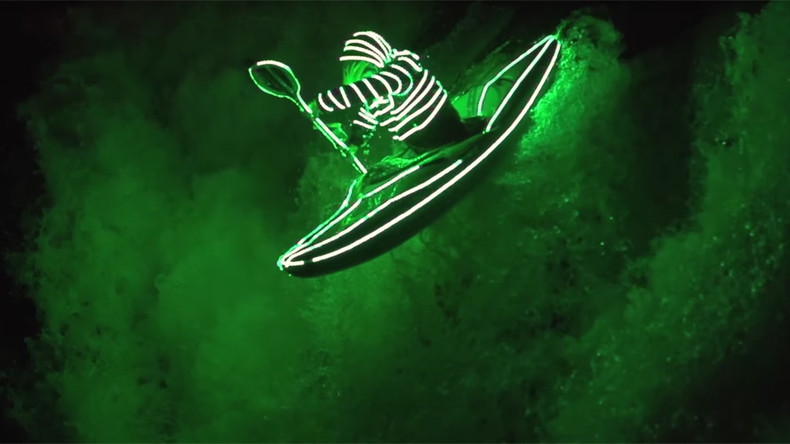 Two kayakers have filmed incredible, dream-like footage of their night-time paddle down river rapids and waterfalls, while suited up with flashing LEDs.
The remarkable video shows brothers Brendan and Todd Wells illuminated in red and green against pitch-black conditions as they kayak their way down a waterfall on White Salmon River in Washington State.
The brothers donned the LED suits to tackle 'class v' (class five) rapids and 70ft waterfalls for the awe-inspiring night shoot.
READ MORE: Human 'meteors': Skydivers shoot across night sky in Perseids plunge (VIDEO, PHOTOS)
"I paddle here with my brother on a regular basis and we have so much fun," said Brendan, a professional kayaker, acknowledging the support the pair received from friends to pull off the spectacular stunt.
"With the help of friends, we attached LED lights to our kayaks, paddles, and our gear."
Posting on Facebook about the episode, Brendan described it as "so much trial and error and rather scary moments paddling in the dark with 100s of LEDs shining in your eyes, but worth the experience no doubt!"
The Wells brothers have filmed several impressive kayaking expeditions, but really pushed the limits creatively for this clip entitled 'Liquid Illumination'.
The video is part of a feature film the pair made documenting their passion for kayaking.
READ MORE: Giant LED Tetris game takes over college facade (VIDEO)
You can share this story on social media: