Horrific footage shows moment 13yo violently flung from Chinese amusement park ride (GRAPHIC VIDEO)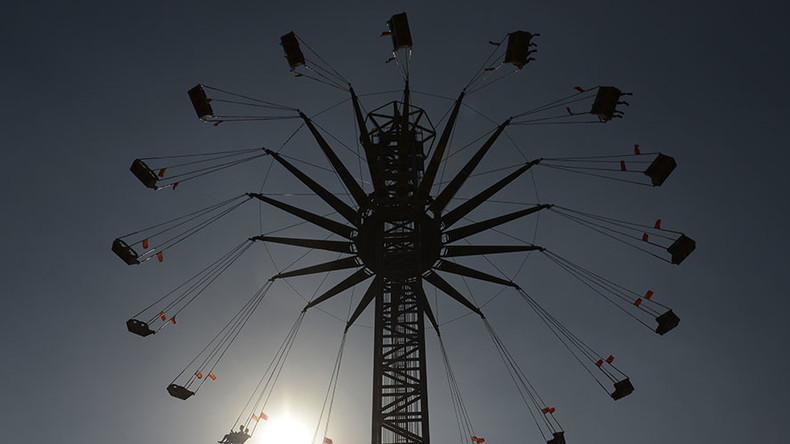 A 13-year-old girl has died after she was flung from a fast-spinning ride at an amusement park in southwest China.
An initial investigation into the grisly incident at Chaohua Amusement Park in Fengdu county, Chongqing municipality has found safety issues with the ride.
The victim's seat belt was broken and a passenger safety bar did not fit tightly enough on the 'Travel Through Space' ride, according to the national product safety regulator. The ride, however, was reported to have passed a routine quality inspection in December.
Horrific smartphone footage of the moment the young girl was hurled out from the ride on Friday has been shared by Chinese state media. It shows the ride spinning swiftly around as the girl clings to her seat before being ejected at speed and crashing to the ground.
WARNING: The following video contains graphic content. Viewer discretion advised.
The child landed on an iron railing and was rushed to hospital, where she died, according to the South China Morning Post.
The girl's family have been offered 870,000 yuan ($126,438) in compensation for the death of their only child, according to local media reports.
READ MORE: 4 killed at Australian theme park while riding 'Thunder River Rapids'
China's national safety authority has ordered the park to close until all rides are checked for 'hidden dangers'.
It has also demanded all fun parks with the 'Travel Through Space' ride to suspend operations until further checks have been made with the Chengdu-based company that manufactures it.
An emergency notice was issued by the authority stating that the cause of the accident is still under investigation. It also stressed the importance of daily inspections and supervision of large scale fun parks.
You can share this story on social media: