Trump 'beheads' Lady Liberty in controversial Der Spiegel magazine cover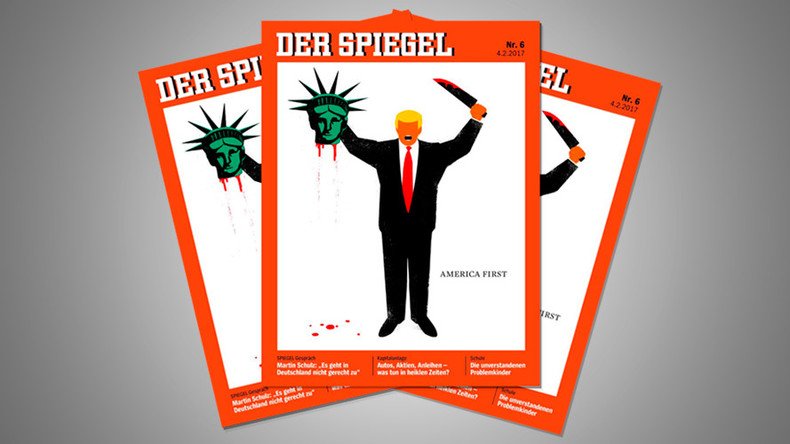 The latest cover of one of Europe's largest weekly magazines, Der Spiegel, has been widely discussed on social media, as the publication decided to feature America's new leader in a provocative pose.
On the cover, the quite recognizable figure of Donald Trump is seen holding a bleeding head of the Statue of Liberty in one hand and a bloodstained knife in the other. Der Spiegel's online version even offers an animated version, with the blood dripping from Lady Liberty's severed head.
The cover is an apparent reference to Trump's recent executive order that introduced a temporary travel ban on nationals from certain Arab countries. Dubbed the "Muslim ban," the order has spurred a wave of protests and lawsuits.
READ MORE: Lawsuits pile up against Trump travel ban and anti-sanctuary city executive orders


German Chancellor Angela Merkel has reportedly criticized Trump's decision, saying his ban could not be justified with anti-terrorist efforts. The measure "does not justify putting people of a specific background or faith under general suspicion," Merkel's spokesman has said.
READ MORE: 'Germany, not Donald Trump, is biggest threat to the EU'
While some called Der Spiegel's cover "stunning," others considered it "disrespectful."
Some users criticized both Trump and "propaganda organ" Der Spiegel, while others mocked the magazine by offering their own improved versions of the cover.
READ MORE: More Americans approve of Trump's travel ban than disapprove – poll
It's not the first time the German magazine is inspired by the now US leader, dedicating controversial covers to Trump.
You can share this story on social media: