'Chlorine chicken' could be added to UK menu after Brexit deal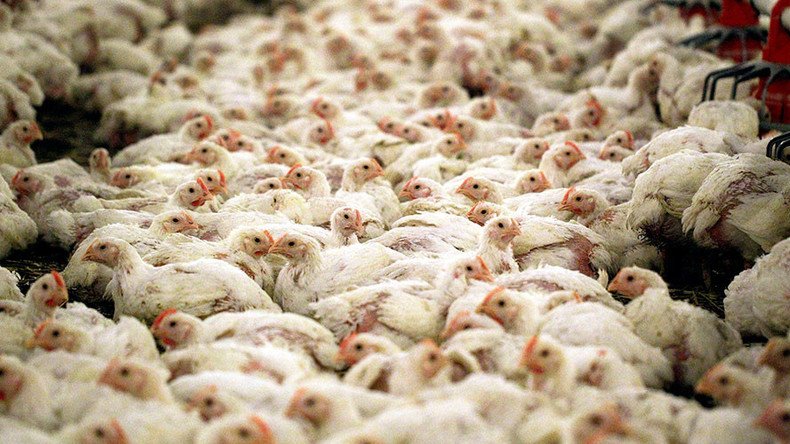 A new trade agreement between the UK and US could result in a number of regulation changes on both sides of the Atlantic. One potential reform, however, has caught people's attention in particular - the sale of "chlorine chicken."
Although a number of issues would have to be ironed out in such a deal, it seems social media users in the UK have been rattled by the suggestion that an agreement with the US could result in British consumers being sold chicken cleaned with chlorine.
READ MORE: UK promises to abide by EU laws during May trade talks with Trump
The process is perfectly legal in America but currently prohibited by EU authorities, something which could change when the UK leaves the European Union.
Young, chief economist at American Farm Bureau Federation, says no problem with chlorine chicken, because there's chlorine in swimming pools

— Jessica Elgot (@jessicaelgot) January 24, 2017
Mmmm, American chlorinated chicken heading to UK under 'trade deal.' How old is it? When was it last alive? Who knows? Chlorine make good.

— Alt-Rupert (@TheMurdochTimes) January 29, 2017
In the US, chemicals are frequently used to reduce bacterial contamination along the food processing chain, while poultry farms in the UK have to adhere to a number of hygiene regulations set out by the EU.
Many directives are imposed at farm level in a bid to reduce or eliminate bacteria, although there are also a number of checks in place along the processing chain.
Interesting US is flagging up meat and chicken products as trade priorities. Not sure growth hormones and chlorine are my fave ingredients.

— ruth wishart (@ruth_wishart) January 24, 2017
"We're asking for our chance to compete," Farm Bureau spokesman William Rodger told BuzzFeed. "If Britons are afraid of these techniques, they won't buy food produced with them. That's their right, regardless if it's irrational."
According to a 2014 blog post from the European Consumer Organisation (BEUC), however, "there is no added-value or justification to throwing our approach overboard and paving the way for chemically treated poultry to enter our market."
What is this chicken dipped in chlorine we've been deprived of? Coq au piscine? I've always liked the smell of pool on skin.

— Metin Hüseyin (@MetinHuseyin) February 1, 2017
Hang on, do I need an opinion on chlorinated chicken now?

— Duncan Weldon (@DuncanWeldon) February 1, 2017
@SarahLudford A lot of American chicken meat is soaked in chlorine as well as injected with antibiotics while alive. No thank you.

— Robert W. Pierce🇪🇺🇬🇧 (@Rob71350) January 19, 2017
This isn't the first time for the issue of chlorine washed chicken to be raised, as it has consistently been noted as a concern by those opposed to the Transatlantic Trade and Investment Partnership (TTIP) agreement between the EU and US.
EU - as strong equal partner - continued to refuse chlorine chicken or hormone beef in TTIP. UK alone has far less to bargain with #r4today

— Jenni Dunsmore (@yennimimi) January 24, 2017
@JolyonMaugham we need red lines. No changes to our regulations for goods. E.g. No GMO corn, chlorine chicken or over-powered hoovers.

— Chris Gould (@Chr1sGould) January 23, 2017
What do you think, would you eat chlorine chicken? Let us know in the poll below.
You can share this story on social media: