'Chlorine chicken' could be added to UK menu after Brexit deal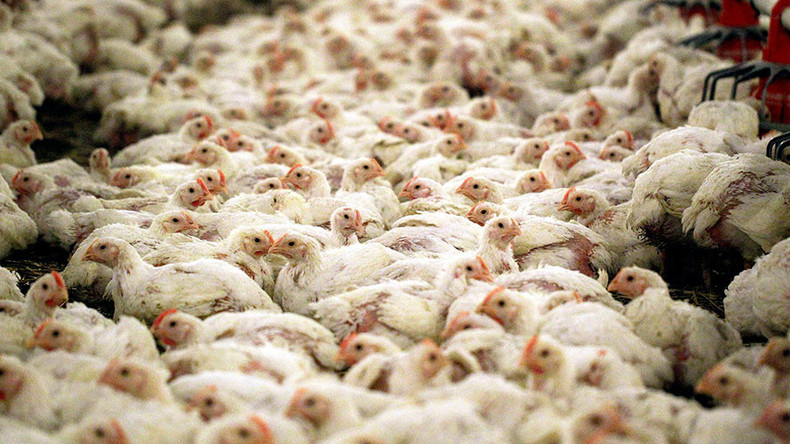 A new trade agreement between the UK and US could result in a number of regulation changes on both sides of the Atlantic. One potential reform, however, has caught people's attention in particular - the sale of "chlorine chicken."
Although a number of issues would have to be ironed out in such a deal, it seems social media users in the UK have been rattled by the suggestion that an agreement with the US could result in British consumers being sold chicken cleaned with chlorine.
READ MORE: UK promises to abide by EU laws during May trade talks with Trump
The process is perfectly legal in America but currently prohibited by EU authorities, something which could change when the UK leaves the European Union.
In the US, chemicals are frequently used to reduce bacterial contamination along the food processing chain, while poultry farms in the UK have to adhere to a number of hygiene regulations set out by the EU.
Many directives are imposed at farm level in a bid to reduce or eliminate bacteria, although there are also a number of checks in place along the processing chain.
"We're asking for our chance to compete," Farm Bureau spokesman William Rodger told BuzzFeed. "If Britons are afraid of these techniques, they won't buy food produced with them. That's their right, regardless if it's irrational."
According to a 2014 blog post from the European Consumer Organisation (BEUC), however, "there is no added-value or justification to throwing our approach overboard and paving the way for chemically treated poultry to enter our market."
This isn't the first time for the issue of chlorine washed chicken to be raised, as it has consistently been noted as a concern by those opposed to the Transatlantic Trade and Investment Partnership (TTIP) agreement between the EU and US.
What do you think, would you eat chlorine chicken? Let us know in the poll below.