Dying teen tasers cops as part of bucket list (VIDEO)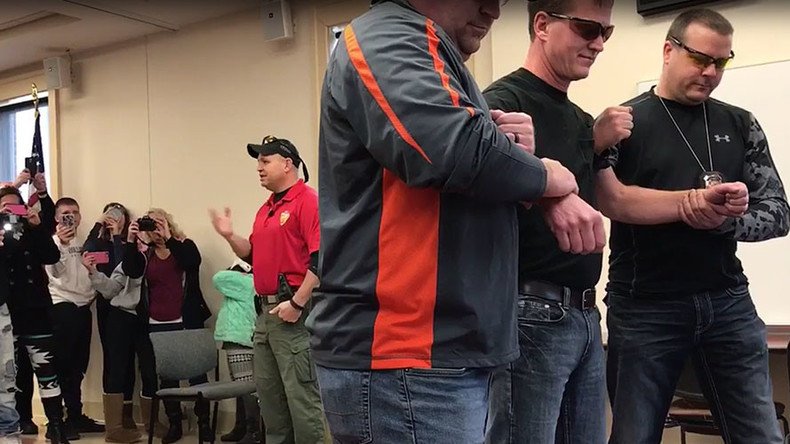 Forget Disneyland or meeting Beyoncé, this terminally ill teen wanted to shoot a line of cops with a taser as part of her 'bucket list'. Several officers lined up in front of Alyssa Elkins, who dressed in uniform and zapped each of them in turn.
"Taser! Taser! Taser!" cops at the Newark Police Department in Ohio yelled before Alyssa, 16, shot Sergeant Doug Bline in the back. Flanked by two men, Bline was safely lowered to the ground as he writhed in pain.
After volunteering to be zapped, Bline told The Columbus Dispatch"It's painful, but given her situation, it's a no-brainer. If I were her parent in this situation, I'd be happy to know that someone was willing to do this for her."
Alyssa made the unusual request after remembering a video that made her laugh of her uncle, a State Highway Patrol trooper, being shot with a taser during his training. After previously undergoing four months of treatment for leukemia, Alyssa found out this month that the illness had returned.
Instead of undergoing a second bout of treatment she decided to make the most of the few months she has left and commenced work on completing her bucket list.
Another one of her wishes was to pet a pig, something the police department conveniently happened to have in the station that day. She also went shopping for a wedding dress and sent a message in a bottle into the ocean. She will also make a visit to Disney World – not nearly as exciting as firing a taser at a police officer.
Along with six officers, two member of the public also volunteered to be shot.
Despite her trigger-happiness, the teen's mother claims she would never hurt anyone. "My other daughter wasn't even sure Alyssa could push the button, that she'd be too afraid to hurt somebody," Tiffany Elkins said.
READ MORE: Every dog has its day: Dying mutt to fulfill bucket list
You can share this story on social media: