'The alien blocked my punch': UFO spotter's ET abduction 'proof' debunked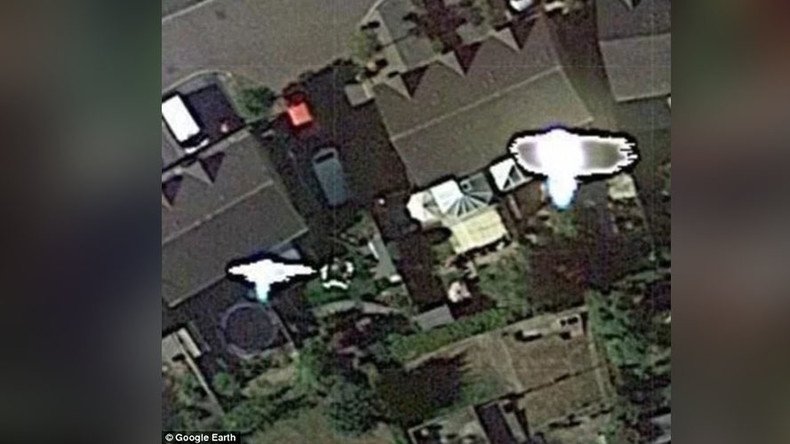 A prominent UFO spotter claiming to have proof of once wrestling with an alien during an abduction has had his far-out 'recollections' bunked by a UFO hoax-buster.
John Mooner, from Devon in the UK, told local press on Monday that Google Earth's satellite images show him "clearly trying to fight off the grey alien by punching it in the face."
However, a website focused on investigating ET sightings and conspiracies, said the UFOs which Mooner claims were captured by Google Earth are in fact glass structures reflecting the sun.
"The alleged UFOs are just a glass structure reflecting the Sun," UFO of Interest told RT. "If we search the previous old satellite images by Google Earth taken in the same area, we can see better these glass structures."
"The image has gone viral quickly and it was easy for me to find the exact place on Google Earth."
In its debunk, UFO of Interest provided Google Earth images matching Mooner's originals, but also presented two conservatories in the same position where Mooner claimed that UFOs were located.
Mooner says he doesn't remember his alien abduction, but that he remembered "sporadic episodes of missing time throughout the year of 2016 and going back through the previous years."
"Looking at the image it appears that the alien has blocked my punch and has grabbed my fist and must of been able to subdue me," he said.
The UFO enthusiast, who says he's the chief photographer for World UFO Photos, has spotted a number of UFOs in his home county of Devon, and even claimed he witnessed one last week.
Mooner made his abduction discovery after he was having trouble with his Google Earth app, and tried Google satellite maps on his computer instead.
"I was left speechless by what I saw," Mooner said. "The satellite has captured a real alien abduction taking place. The shocking thing about this was that it's me being abducted by a grey alien and the satellite image clearly shows me trying to fight off the grey alien by punching it in the face."
Not only did Mooner come to blows with an alien, he also said there were three UFOs flying toward him at the same time.
"The UFO that appears to be at the highest altitude has a green light emanating from it and appears to be leaving a faint contrail with a red glow behind it," he said. "The other two UFOs are glowing white."
"I think that the UFOs were coming to pick me up with the grey alien," Mooner said. "I was abducted and this satellite image is proof."
You can share this story on social media: