'You put his fingers on nuclear button': Woman thrown off plane for berating Trump supporter (VIDEO)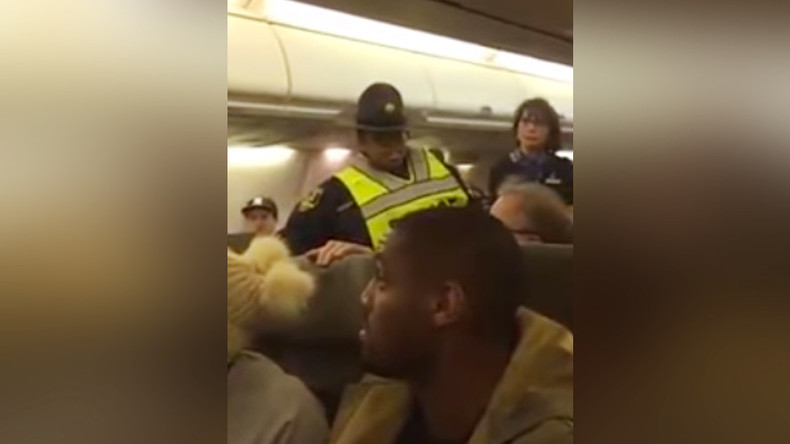 A passenger was removed from a flight in Baltimore after scolding the passenger next to her for being a Trump supporter. Video of the incident uploaded to Facebook has gone viral with more than 3 million views.
Scott Koteskey, who according to his Twitter account was in Washington DC for Donald Trump's inauguration, uploaded the video after taking a flight from Baltimore to Seattle. According to his Facebook post he was asked by the unidentified woman sitting next to him: "Did you come here to cheer or to protest?"
Koteskey said he responded: "I came here to celebrate democracy ma'am."
The woman then commenced attacking Koteskey for his support of the president, saying, "You put that man's fingers on the nuclear button" and "Do you believe in gravity? Did you know gravity is just a theory?"
According to Koteskey's Facebook, she also threatened to get drunk and vomit in his lap.
The woman was eventually thrown off the plane by airport police after she refused to leave when a flight attendant told her too. She had told him she was traveling with her husband whose mother had just died, to which the attendant responded "I'm terribly sorry for that, but that does not give you the right to treat people the way you did."
Other passengers can be heard chanting "USA" and cheering as the woman is removed from the plane.
READ MORE: 'We just had election!': Trump puzzled over Women's March
You can share this story on social media: