Le Pen taunts Merkel's party as German city readies right-wing convention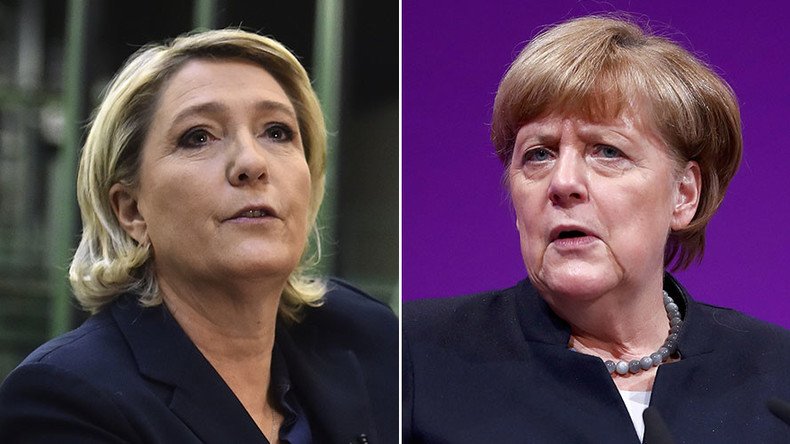 Europe's right-wing parties are to due to meet in Germany this weekend with the roundtable being described as an "EU counter-summit".
It's being organised by the group operating under the umbrella name of the European of Nations and Freedom, and is expected to convene in the German city of Koblenz this Saturday.
It will likely see leaders of anti-immigration parties from France, Holland, Germany and Italy discuss common policies and strategies, as well as the increase in eurosceptic sentiments across the continent.
READ MORE: 'New right' views gain popularity in German society - research
The meeting coincides with the announcement that Germany's general election has been scheduled for 24 September.
In a thinly veiled dig at German chancellor Angela Merkel and the country's current grand coalition, French far-right National Front Party leader Marine Le Pen tweeted that she is going to meet Germany's future, "not its past, the CDU."
Je vais en Allemagne rencontrer son avenir, l'AfD, pas son passé, la CDU. MLP

— Marine Le Pen (@MLP_officiel) January 20, 2017
According to a survey carried out by Cevipof and Le Monde, Le Pen is gaining momentum and leading the French presidential race with 25 to 26 percent of the vote.
The French presidential election will be held on April 23, while the general election in The Netherlands has been chalked in for March this year.
READ MORE: Le Pen: 'I'll put an end to Brussels superpower'
Founded as a European Parliament political bloc for parties with similar ideals, the European of Nations and Freedom say its core mission is to unite people opposing "supranational bodies and/or European institutions".
Its board includes Le Pen, Alternative for Germany Party (AfD) member Marcus Pretzell and Dutch right-wing MEP Geert Wilders.
Wilders, who was convicted last year for inciting racial hatred over a chant calling for "fewer" Moroccan people in Holland, promoted Saturday's event, in a tweet earlier this month.
He posted an image showing Le Pen, AfD chairperson Frauke Petry and the head of Italy's Lega Nord Party, Matteo Salvini.
His tweet included the hashtag: "We will make our countries great again."
According to local German media, journalists from organisations such as ARD, ZDF and Der Spiegel have been refused access to cover Saturday's gathering.
READ MORE: AfD bans German public TV from European right-wing parties' conference for 'biased' reporting
In a Facebook statement, Pretzell said more than 250 journalists had been accredited.
He added that his party hoped to "learn from our European partners" and talk about "concrete changes" on the continent.
You can share this story on social media: