Topless FEMEN protester grabs Trump statue by crotch in Madrid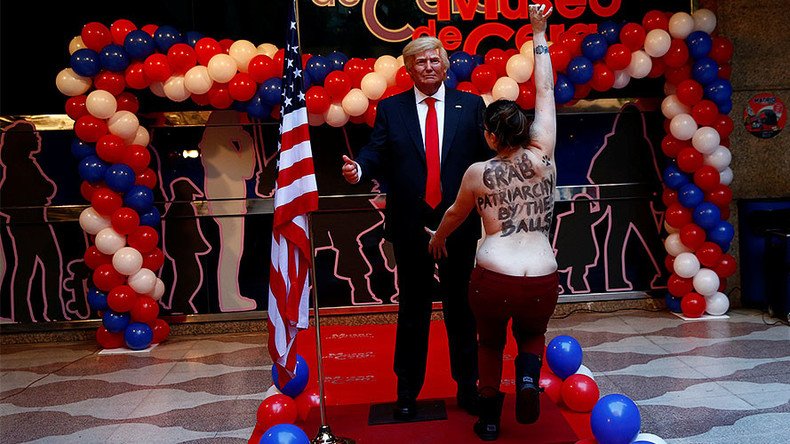 It seems not even a statue of Donald Trump can avoid protests after a topless demonstrator grabbed the wax-work model's crotch during the unveiling of a statue of the president-elect in Madrid, Spain.
Video footage of the woman, a member of the FEMEN activist group known for its topless protests, shows her running towards the Trump statue at the Museo de Cera Madrid with the words, "grab back" written across her chest in large letters, referring to Trump's infamous comments about grabbing women "by the p***y."
READ MORE:'Grab them by the p***y': Leaked audio of Trump causes GOP backlash
The woman, who has not been named, shouted "grab patriarchy by the balls," as she ran towards the statue and grabbed its crotch.
A man attempted to cover the woman's chest with a coat, which she flung away. Next, the man picked up some of the blue, red and white balloons strewn across the floor in an effort to cover her up, but was no match for the woman who avoided him and continued to shout.
She was, however, eventually led away by security.
Femen took credit for the demonstration, writing on Twitter, "FEMEN just grabbed Trump's statue by the balls in Madrid."
Femen activists took part in a similar demonstration against Trump on the day of the US presidential elections in November. Two topless women, with "Trump, grab your balls," written across their chests, protested at the Manhattan polling station where the president-elect was expected to cast his vote.
The museum responded to the event by saying it will increase security measures around all the statues.
You can share this story on social media: