600yo Buddha statue uncovered in Chinese reservoir (VIDEO)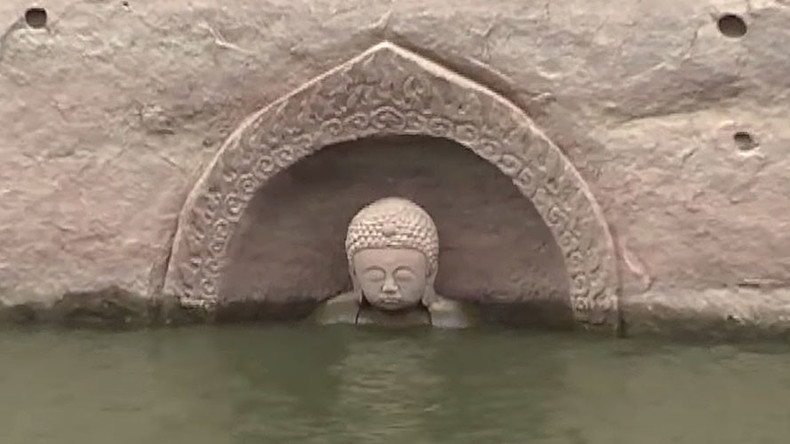 A 600-year-old statue of Buddha has emerged from the depths of the Hongmen Reservoir in eastern China following a drop in water levels.
The statue was spotted by a villager at the site in Jiangxi Province at the tail end of last year when water levels dropped by roughly 10 meters (33ft) following a renovation project at the reservoir.
An underwater archaeological mission revealed that the statue is around 12.5ft (3.8 meters) tall and carved into a cliff some 600 years ago during the Ming Dynasty, which reigned for almost three hundred years from 1368-1644, according to Xinhua News.
READ MORE: 2,300yo sword discovered in China, looks as deadly as ever (VIDEO, PHOTOS)
The statue is part of a larger structure which includes, paths, inscriptions and the foundation of a large hall, covering an area of 165 sq meters (1776 sq ft) and was built at the intersection of two rivers on the ruins of the ancient Xiaoshi Township.
"According to folk tale, the ancient people built the statue to pray for safety," said Guan Zhiyong, head of Hongmen Township government. Modern residents also believe that the emergence of the statue is a sign of good fortune.
So. A 600 year old Buddha reappears just as Trump in about to be inaugurated. I'm building a space ship and getting the shit outta dodge.

— Ross (@ross1coe) 17 January 2017
Hongmen Reservoir was built in 1958, with many locals relocated for the project. The statue is thought to have been submerged within a few years. After the Buddha's recent re-emergence, some returned to pay their old protector a visit.
"I went to the temple in 1952 and saw the Buddha statue for the first time. I remember it was gilded at that time," said former villager Huang Keping.
For those considering a visit to the site, it seems time is running out. The statue is expected to be submerged again in March when the water levels are restored with the arrival of the spring flood.
You can share this story on social media: