Machine guns are child's play during Thai National Children's Day (VIDEO)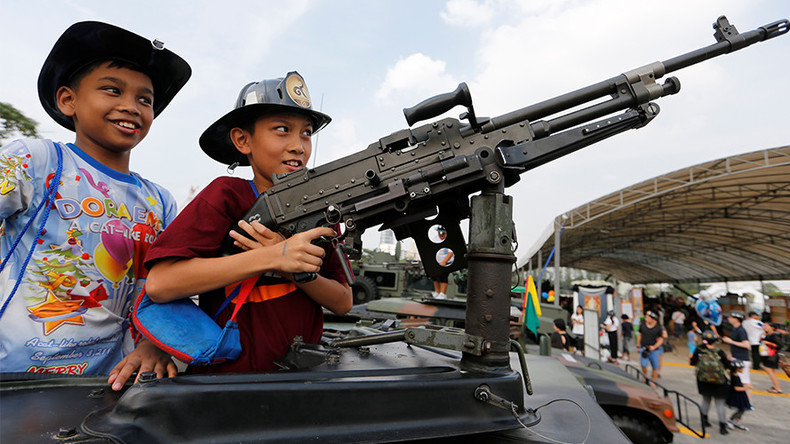 A national holiday celebrating the role of children in Thailand involved young whippersnappers pretending to play army with high powered firearms and armoured vehicles.
But the day for Thailand's youth has provoked debate over whether pushing military involvement is appropriate.
Since coming to power in a coup, former Royal Thai Army Commander in Chief and now Prime Minister Prayuth Chan-ocha has sought to boost nationalism in country.
READ MORE: Military coup in Thailand: Consitution suspended, all TV & radio broadcasts halted

In 2014, the government outlined 12 "core values for a strong Thailand" to be taught in schools.
One value included "putting the public and national interest before personal interest" and encouraged upholding the nation and monarchy.
National Children's Day, or Wan Dek, is held on the second Saturday of January every year.
A previous motto for the event was: "Be grateful, know your duties, uphold discipline, help build the nation."
A number of events are held throughout the country, including numerous military showcases and open days organised by the Royal Thai army.
Video depicts how at the Bangkok headquarters of the 2nd Cavalry Division, young children were allowed to play with machine guns and other weaponry alongside soldiers.
At one point a man appears to instruct a young child on how to pull the trigger of an automatic weapon mounted on an armoured car.
While many of the young children appear happy to be mixing with the Thai armed forces, the images have stoked debate online.
You can share this story on social media: