Techies get a 'flying workout' with new VR device (VIDEO)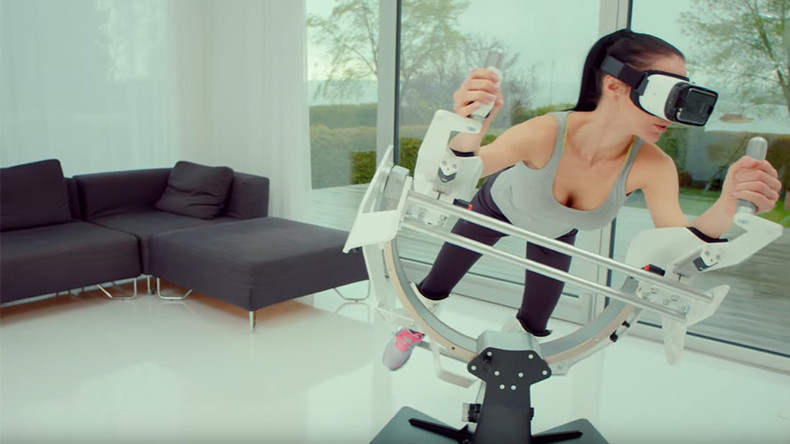 It may have the misfortune of resembling a death row gurney, but the ICAROS VR 'flying' fitness machine is one of the latest contraptions to get techie hearts racing at the Consumer Electronics Show (CES) in Las Vegas.
The flying experience sees users strap on a virtual reality headset and try their hand at navigating different environments as if they were a bird or superhero.
READ MORE: 8 bizarre #CES2017 gadgets you never knew you needed (PHOTOS, VIDEOS)

Designed with a gyroscopic frame, the bizarre looking gadget is said to help boost reflexes and stimulate muscles from head to toe.
The product is the brainchild of Munich-based tech firm ICAROS GmbH, who says it melds gaming and a physical workout.
"Soon hardcore gamers will have the hardest abs ever," the official ICAROS Facebook page boldly states.
Featuring at this year's Consumer Electronics Show in Las Vegas, the ICAROS' spin on the everyday workout appears to have caught the eye of tech buffs.
Promotional video of ICAROS' capabilities shows users 'soaring' through a mountainous region while swinging around on the contraption's movable frame.
READ MORE: Tinder introduces 'dating' Virtual Reality headset for two
"With it you can train your muscles and stimulate the capability of reaction and balance," the company's website explains. "Simply with your movements on the Icaros you control and determine the flight path or diving the path in the game."
The device will cost around €8,000 a unit and the company is currently taking inquiries from prospective buyers.
You can share this story on social media: