3,500kg robot to carry human 'pilots' in 'ex-bionic racing league' (PHOTOS, VIDEO)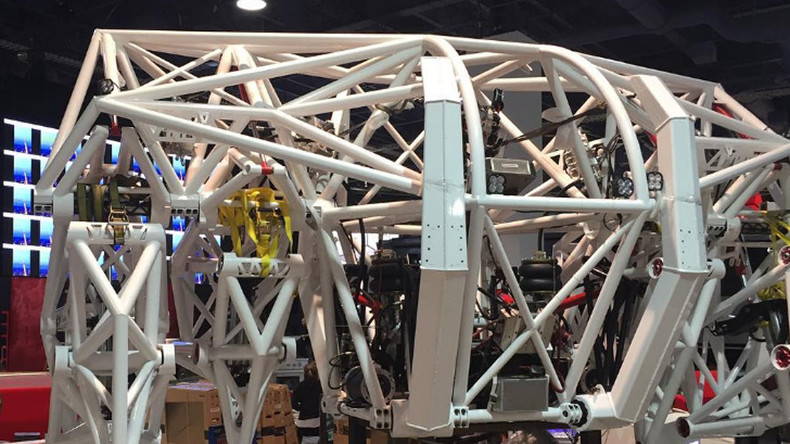 An imposing 14ft tall exo-bionic robot that can carry a human pilot to race robotic competitors at speeds of up to 30kph (19mph) has been unveiled at the major tech conference CES.
The intimidating 16ft wide device called 'Prosthesis' was showcased by its Canada-based makers Furrion at the 2017 Consumers Electronics Show (CES) in Las Vegas, Thursday, before making a test run in the Nevada desert.
The impressive bionic structure is controlled by a human pilot sitting in the center of the bot. The 'driver' moves their own body and the machine amplifies their motions.
While Prosthesis is not on the market yet, Furrion have plans for it to become the world's first mech racer and launch an 'exo-bionic racing league.'
READ MORE: Self-parking Faraday car fails to park itself at CES 2017 (VIDEO)
"Imagine a stadium with obstacles, challenges and head to head competition, not with cars or trucks, but with giant, human piloted mechs," the Prosthesis site states.
The company describes the bot, which weighs a whopping 3,500kg (over 7,700lb), as a sports machine and says a trained athlete is required to operate it.
The racer is powered by a lithium ion battery and will be capable of tackling any terrain at top speed for between 30 minutes and an hour, depending on its speed, according to the company.
In spite of its alarming, human-enclosing appearance, manufacturers have promised that the 'Anti-Robot' is in fact very silent and you will hardly hear it as it speeds by.
READ MORE: 8 bizarre #CES2017 gadgets you never knew you needed (PHOTOS, VIDEOS)

You can share this story on social media: