Unmanned solar-powered robotic boat to replicate Mayflower's pilgrimage of discovery (PHOTOS)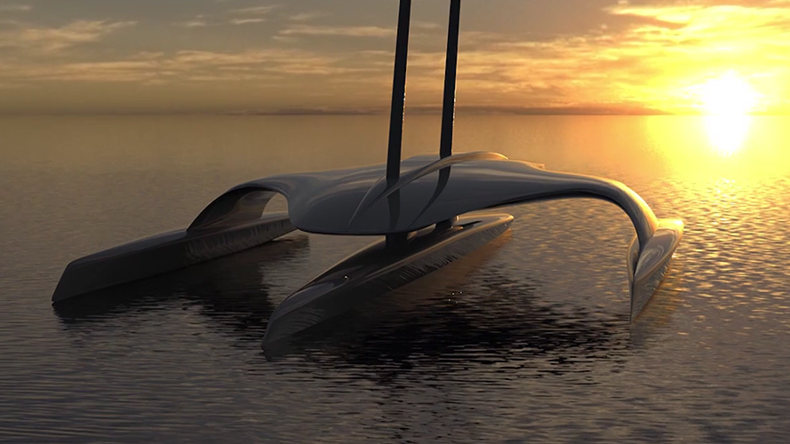 An unmanned scientific research vessel is on course to recreate the Mayflower's historic journey from England to America.
The Mayflower Autoship plans to sail from Plymouth in Devon to Plymouth in Massachusetts in four years to mark the 400th anniversary of the journey taken by the pilgrims aboard the original Mayflower in 1620.
The robotic boat is an entirely unmanned solar powered trimaran. It will cross the Atlantic while carrying out experiments and research along the way. The ship will be equipped with instruments that will allow it to be controlled from thousands of miles away or to control itself.
The 32.5-meter-long craft, similar in length to the original Mayflower, is being developed by the University of Plymouth in partnership with marine company MSubs, who build submarines. It is expected to be ready in 2019 to allow enough time for effective sea trials ahead of its maiden voyage in 2020.
It will carry equipment to monitor climate change and to analyze the ocean. It will even have life rafts should it be needed to go to the assistance of another boat.
Brett Phaneuf, of MSubs, said: "The vessel will conduct all manner of meteorological, oceanographic and climate data gathering and research. It is intended to house one or more modular payload bays, much like a Space Shuttle, into which a diverse range of mission equipment will be fitted to support the various research tasks."
Should the autoship complete the task, it will be the first transatlantic crossing by an unmanned vessel. After reaching America the ship will go on to circumnavigate the globe, all the while carrying out experiments. Thereafter it will be available for charter for scientific research.
Phaneuf added: "The goal with this ship, using fuel cell technology, wind and solar and advanced battery systems, is to make it so it can stay at sea indefinitely."
The project is expected to cost a total of £12 million ($14.6 million). Earlier this month, the £100,000 needed to fund the first stage of development was successfully raised with the help of a Crowdfunder campaign.
Phase Two of the design is almost complete and construction of a scale model for wave tank testing will start soon.
Professor Kevin Jones, of Plymouth University, said the ship will be a "genuine world first" which will operate as a research platform, conducting numerous scientific experiments during the course of its voyage.
"It will be a test bed for new navigation software and alternative forms of power, incorporating huge advancements in solar, wave and sail technology."
The craft's designers, John and Orion Shuttleworth, explained the design advantages of not having to carry a crew. "A trimaran was chosen because it provides the most efficient hull form for low speed motoring. Without the need for accommodation, the [center] hull has been kept low to the water and the wings and deck are separated and raised above on struts. This allows waves to break through the vessel and significantly reduces roll induced by wave impact."
Robotic ships look set to play a significant role in marine transportation in the future as Rolls Royce also has plans to build cargo ships that can sail in open waters without a crew.
READ MORE: Rolls Royce plans crewless 'ghost ships' for maritime trade (VIDEO)
The company has admitted that concerns over piracy and maritime legislation could potentially knock their plans off course, but they believe the robotic ships will be at least as safe as existing vessels.