10 years of WikiLeaks: 5 of the whistleblower group's most influential releases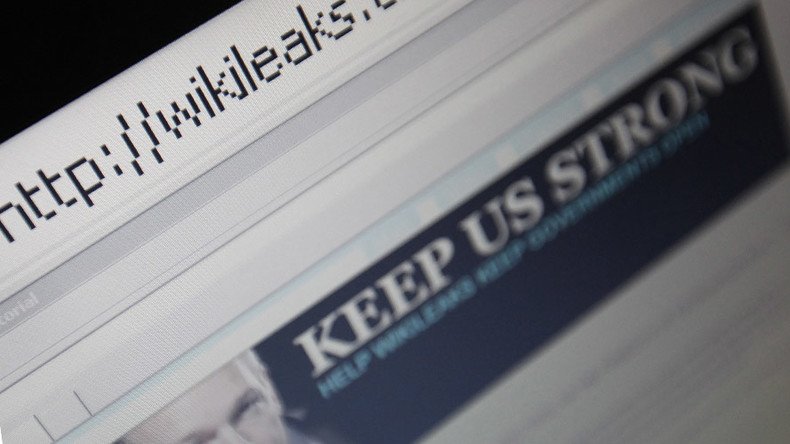 Today, WikiLeaks is celebrating 10 years of exposing governments, leaking classified documents and sharing embarrassing political emails.
Since being founded by Australian activist Julian Assange in 2006, the non-profit organization has leaked more than 10 million classified documents, firmly establishing itself as a safe haven for whistleblowers and a nightmare for governing bodies.
READ MORE: What the hack? The leaks that shaped 2016
After bursting onto the scene on December 28, 2006, by revealing a Somali politician's plan to assassinate government officials, WikiLeaks has spent the last decade lifting the veil of technological secrecy usually afforded to those in positions of power.
Here, we look back at the organization's five most high-profile leaks.
1. Iraq and Afghanistan - In 2010, WikiLeaks released airstrike footage and more than 700,000 confidential documents pertaining to US operations in Iraq and Afghanistan.
The organization released an enormous amount of classified material online throughout the year, revealing drone footage of civilians being killed by the US military, files on Guantanamo Bay prisoners, and details about hundreds of thousands of war incidents.
Labeled the 'Iraq War Logs', the files added 15,000 previously unknown civilians to the US public death count. The additions bring the total number of US 'kills' between 2004 and 2009 to over 109,000 - 66,081 of whom are considered civilians.
The leaks were later found to have come from US Army private Chelsea Manning, who is continuing to serve her 35-year sentence in federal prison for violating the Espionage Act.
2. The NSA - One of WikiLeaks' most high-profile leaks came from NSA whistleblower Edward Snowden in 2014. These documents revealed the alarming extent of the National Security Agency's (NSA) spying.
As well as revealing that the agency records and stores nearly all domestic and international phone calls in the US and abroad, Snowden outed his country's years-long continuous monitoring of top foreign officials' phone calls in France and Germany, including of German Chancellor Angela Merkel.
3. NATO - In 2014, WikiLeaks released a classified report from 2008 on NATO's plans for future expansion into Eastern Europe, written by then US Secretary of State William Burns.
The report outlined the pros and cons of admitting Ukraine and Georgia into the bloc, highlighting that allowing Ukraine to enter could have a significant impact on relations between Ukraine and Russia, and adding that it could split the country, lead to violence, or - in a worst-case scenario - even war.
READ MORE: It's all over: How hackers & whistleblowers killed the Clinton campaign
4. DNC leak - In July 2016, just days before the Democratic party convention, WikiLeaks released thousands of emails from the Democratic National Committee's server, revealing the DNC's bias against Bernie Sanders and secret strategies with the party favorite, Hillary Clinton.
DNC chair Debbie Wasserman Schultz resigned as a result of the revelations, the committee apologized to Sanders and Hillary went on to win the party nomination anyway.
5. Podesta emails - Also in 2016, WikiLeaks bombarded the Clinton campaign every day for a month leading up to the November election with drops of emails from the account of Clinton's campaign chair John Podesta.
Over 55,000 emails to and from Podesta, some dating back to 2007, revealed the inner workings of the Clinton campaign, its very close relationship with members of the political press and those infamous Wall Street speech transcripts.
READ MORE: RT beats internet to break #Podestaemails6 & everybody loses their minds (conspiracy theory warning)

You can share this story on social media: