Mall bans woman after her racist rant goes viral (VIDEO)
Published time: 23 Dec, 2016 04:35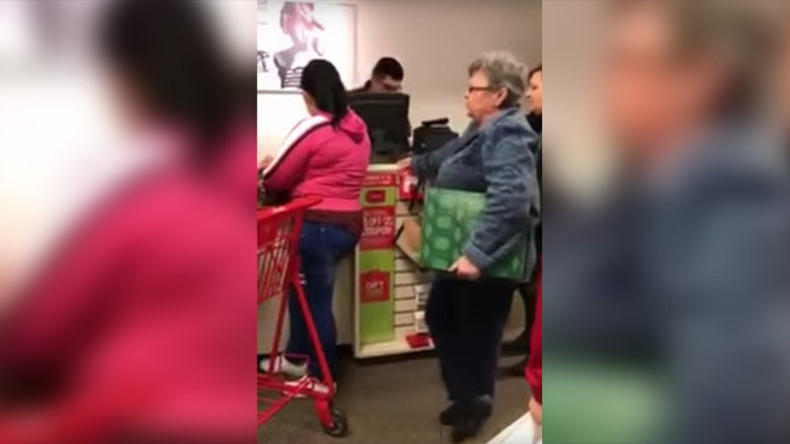 A woman who was captured on camera spouting racist abuse at Latino shoppers – a video that went viral – has been banned from Jefferson Mall in Louisville, Kentucky.
The footage, filmed at the mall's JCPenney, was viewed 7.2 million times on Facebook before being removed.
"Go back to wherever the f*ck you came from lady" the woman says after two shoppers reportedly skipped the line in front of her.
"You're nobody as far as i'm concerned. You're probably on welfare. The taxpayer paid for all that stuff." When one of the shoppers calmly tries to speak to her, she replies: "Speak English. you're in America. If you don't know it learn it."
Renee Buckner, who posted the video, claimed the woman had not skipped the line but instead her friend had added some items to her purchases, which were already being processed. Buckner added that some people did try and let the woman know her words were "out of order."
Jefferson Mall posted on Facebook that they were aware of the video and "do not condone this type of behavior." Once identified, the woman will be banned from the mall, according to the statement.
"This is not who we are, and on behalf of our community, I apologize to the two women who were treated in such a horrible way," Louisville Mayor Greg Fischer said in a statement. Jefferson County Attorney Mike O'Donnell announced that the women who were the victims of the tirade of abuse are welcome to contact him if they wish to pursue criminal charges.
JCPenney issued a statement asking for the public's help in identifying the woman, adding: "We regret that innocent bystanders – both other customers and a JCPenney associate – were subjected to such discriminatory remarks."
"As an American i'm horrified," one woman wrote online after viewing the video. Others questioned why the offending woman wasn't escorted out of the store.
@yashar
Shame on @jcpenney You should have escorted this old bitter angry racist woman out of your store. Shame on all of yall.

— d.m. (@missumyhappybrd) December 21, 2016
Kentucky Secretary of State Alison Grimes tweeted that she was appalled by the video, and asked the women involved to contact her so that JCPenney can apologize.
If you know the women seen in the video, please DM me to help @jcpenney reach them for an appropriate and much needed apology. 4/4

— Alison L. Grimes (@AlisonForKY) December 21, 2016