Flour power: French presidential candidate Manuel Valls attacked outside cafe (VIDEO)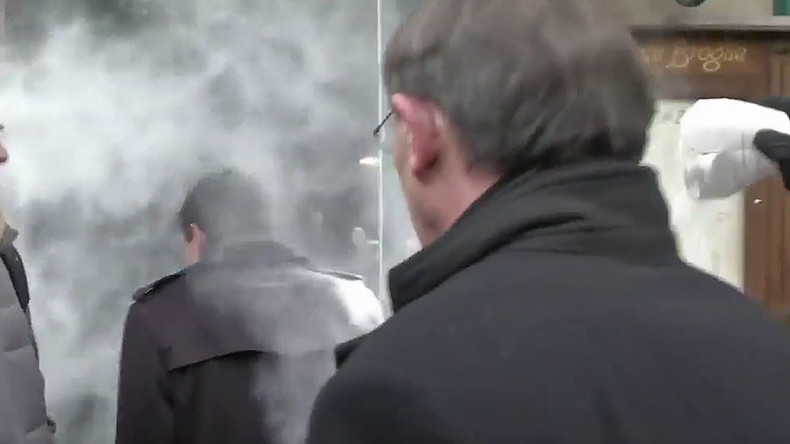 French presidential hopeful Manuel Valls has been covered with flour outside a cafe while campaigning in Strasbourg. The assailant, reported to be a student, yelled at Valls, criticizing his use of the controversial Article 49-3 law.
Valls, a former prime minister for the Socialist Party, retreated into the cafe after the incident Thursday, with his black jacket covered in white flour. The attacker was arrested a few meters away, according to Le Figaro.
"49-3, we do not forget," the attacker is reported to have yelled as he threw the sack of flour. Valls once favored the controversial Article 49-3, which allows the French government to pass laws through the assembly without a vote. It has only two outcomes, either the law is passed, or the government is overthrown.
Valls utilized the law on six occasions during his time as PM but is now in favor of abolishing it.
In an interview with France Inter Radio last week, Valls described the law as being "out of date and brutal. I will propose, outside of budgetary laws… to abolish it, purely and simply."
READ MORE: 'Valls is Hollande's lookalike: Enough of being slaves of Brussels'
"You bleached a bit!" Strasbourg Mayor Roland Ries said, as Valls appeared to take little notice of the incident, continuing with his scheduled meetings with local officials.
In July, Valls caused controversy when he said that France would have "to live with terrorism" in the wake of the Bastille Day massacre in Nice, which saw 86 people killed when a truck was deliberately driven through a large crowd.
Earlier this month, Valls announced is running to become the Socialist Party candidate in the 2017 presidential election.
READ MORE: French PM Manuel Valls announces 2017 presidential bid