'Valls is Hollande's lookalike: Enough of being slaves of Brussels'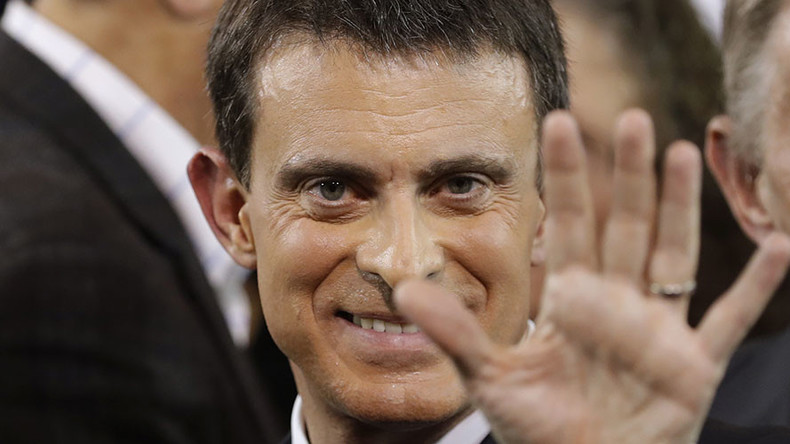 If Valls becomes France's next president, just like Fillon, he will implement policies similar to Hollande, as they are slaves of Brussels which tells Paris what to do and what laws are good, Laurent Jacobelli of the Debout La France Party told RT.
French Prime Minister Manuel Valls has resigned following the announcement he is running for president next year. President Francois Hollande named Interior Minister Bernard Cazeneuve to head the government until the general election next May. Last week, Hollande said he would not seek a second term.
RT: How do you rate Valls' chances, now he's put himself up for the presidency?
Laurent Jacobelli: Frankly we don't know. There are so many competitors fighting him to get the possibility to run for the presidency. Nobody knows what will happen. So the question is: why are there so many socialists thinking they could be good presidents of the French Republic. One key element perhaps is that Francois Hollande has been such a pathetic president that everybody in the Socialist party thinks [they] could do better…
I would underline an important fact: Manuel Valls is Francois Hollande's lookalike – he did the same policy…and he was his prime minister. We've had enough of five years of Hollande. I guess the French population, the French citizens will never elect Hollande's lookalike.
RT: How will he fare against the likes of Marine Le Pen and Francois Fillon?
LJ: Once again we don't know. What we know for sure that there are two possibilities for the French population. They can choose from what we call the establishment. Frankly, Fillon or Valls would want the same policy, because they are slaves obeying Brussels. [It] is telling us what we have to do, what …laws we have to vote for. That is one choice.
The other choice is what we can [call] anti-establishments parties. [There is] the Front National, but they are not the only ones. We, Debout La France, are another one, and Jean-Luc Melenchon [leads] a left-wing anti-establishment party.
What I would say is that the Front National and establishment are playing together. Each time the establishment is going the wrong way, Front National says: "We will have power next time." Each time the Front National says that the establishment says: "Have you seen what Marine Le Pen says? If you don't reelect us you will have the chaos, you will have the end of the world!" So they are playing together, and that is a big risk for the French population. That is to say that the establishment is reelected every five years because Le Pen is going too far.
RT: In July Valls said, "the times have changed, and France is going to have to live with terrorism." Do you think he will live to regret this statement?
LJ: Of course, security and migration are in the center of the debate. We have to remember that Nicolas Sarkozy, the former French President, and Francois Hollande leave us a France, in which there is no more security against terrorism. We have fewer policemen than before. We have a weaker army than before. And no important measure has been taken against terrorism.
We need a president strong enough to control the national borders, to strictly control migration, and to [counter] terrorism; the establishment is unable to do that. There is no such thing as fatality for France to live with terrorism. But if we reelect the establishment, we will have to live with insecurity and mass migration. That is why we have to change our system; we have to renew the politicians who are leading our country and to elect new people.
The statements, views and opinions expressed in this column are solely those of the author and do not necessarily represent those of RT.