Sinister smog engulfs Beijing, netizens imagine alien invasion (PHOTOS)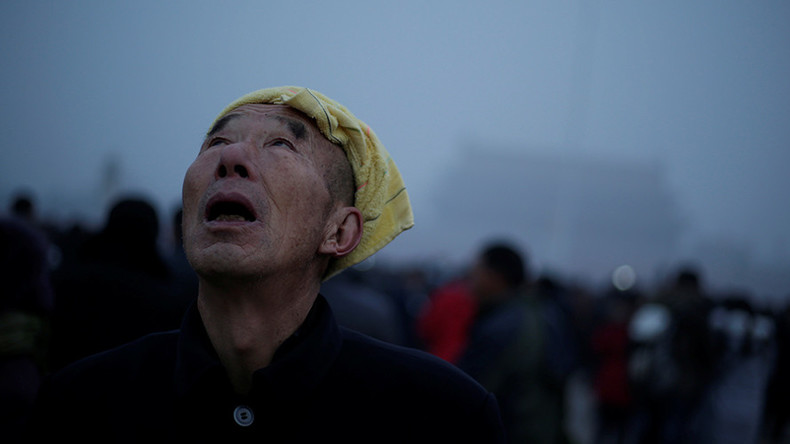 As Beijing continues to battle a 'super smog' the city is facing an alien invasion, or at least that's what a number of netizens would like you to think.
A toxic haze continued to blanket Beijing for the sixth day running, with numerous factories and schools closed after 'red alerts,' which are the highest in China's four-tiered weather warning procedure, were issued, also prompting hundreds of flights to be grounded due to poor visibility on Tuesday.
READ MORE: Shrouded in smog: 5-day pollution 'red alert' declared in Beijing (PHOTOS)
While many were struggling to deal with the deathly clouds, it seems others were more concerned with the apparent impending invasion of Godzilla and Optimus Prime.
While artistic freedom was allowed to shine through, the so called "airpocalypse" was equally menacing, albeit without any potential alien probing.
The smog hit Beijing and surrounding areas in Hebei province and did not appear to be clearing as the first red alert for air pollution was issued in at least 23 cities for the first time this year.
Weather forecasters in the country, however, have said that the smog may begin to fade in the coming days due to night-time winds, according to AP.
This hasn't prevented concerned residents from filing a case against the Chinese government for failing to prevent the smog. A letter from a number of lawyers to the government was shared numerous times on Weibo, China's equivalent to Twitter, but was taken down, the FT reports.
"Progress on air pollution has been lots of talk and hardly any action for the past few years," Cheng Hai, a lawyer from the collective wrote in the introduction of the lawsuit.
In a press release, Greenpeace East Asia called the smog "the most serious air pollution episode of the year" and blamed the Chinese government for failing to properly tackle the situation.
"Greenpeace East Asia urges the Chinese government to introduce stricter limits on coal consumption across the country," the statement read. "Emissions limits must be more strictly enforced and offenders heavily penalized. In the longer term, China urgently needs to accelerate the country's economic transformation away from heavy industries and towards cleaner services."