A year of terror: Timeline of attacks in Europe during 2016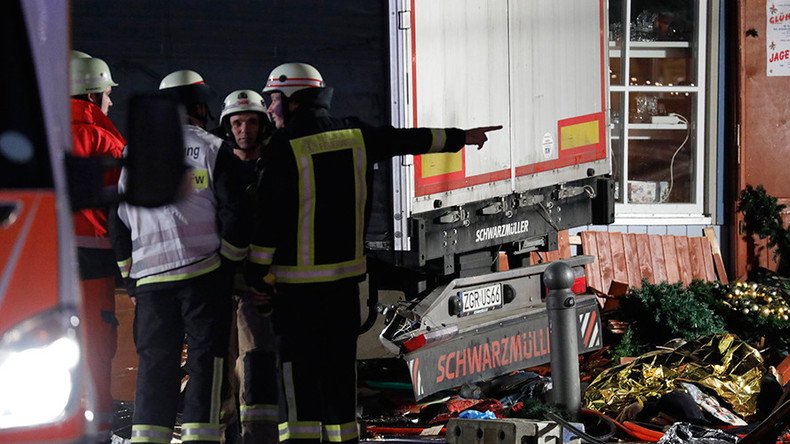 Monday's suspected terrorist attack on Berlin's Christmas market and the assassination of Russia's ambassador to Turkey Andrey Karlov, which has been condemned as an act of terrorism, add to the deadly wave of attacks that have rocked Europe this year.
RT takes a look back at the major terrorist incidents which occurred since the November 2015 Paris attacks, which left 130 victims dead, and marked 2016 as another bloody year for Europe.
READ MORE: As it happened: Timeline of the Paris attacks
Brussels bombings, March 22 – 35 killed, including three suicide bombers
Three explosions hit Brussels during the morning rush hour. Two blasts went off in the departure hall of Brussels' Zaventem Airport while another bomb exploded at the Maalbeek Metro station. Some 300 people were injured. Belgium responded by raising the terrorist threat to the highest level.
Munich stabbing attack, May 10 – 1 killed
One person was killed and three injured at a train station near Munich when they were attacked by a knife-wielding man, reportedly shouting "Allahu Akbar". Officials later reported the man has mental health issues and would not stand trial as a result.
READ MORE: 1 dead, 3 injured: Man reportedly shouts 'Allah is great,' stabs people at train station near Munich
French police couple stabbed on June 13 – 3 killed, including the attacker
Two police officers, who were married to each other, were stabbed to death at their home in Magnanville, west of Paris in what French president Francois Hollande described as "unquestionably a terrorist act".
The attacker, Larossi Abballa, pledged allegiance to Islamic State (IS, formerly ISIS/ISIL) and previously spent time in jail over jihadist links. He was killed by police special forces.
READ MORE: Magnanville attack: ISIS claims link to Paris suburb stabber who killed police officer & his partner
Nice truck terror attack, July 14 – 87 killed, including the attacker
Eighty-six people were killed and 434 people injured when a truck plowed into a crowd in Nice during Bastille Day celebrations. The Tunisian truck driver was killed by police. It was reported he shouted "Allahu Akbar" before the attack.
President Hollande responded to this by extending the national state of emergency, which had been in place since the Paris attacks.
Ansbach bombing Germany, July 24 – suicide bomber killed, 15 injured
Fifteen people were injured, four seriously, in a suicide bombing outside a wine bar in Ansbach, Germany.
The bomber, identified as Mohammad Daleel, was a 27-year-old Syrian refugee who had pledged allegiance to Abu Bakr al-Baghdadi, leader of the Islamic State.
Normandy church attack, July 26 – 3 killed, including two attackers
An 84-year-old priest was killed in an attack at a church in Saint-Étienne-du-Rouvray, Normandy. IS later claimed responsibility for the incident.
The priest was among six people taken hostage by the attackers before they were killed by police.
READ MORE: ISIS hostage takers kill 84yo priest at French church, reportedly slitting his throat
Hamburg stabbing attack, October 16 – 1 killed
A 16-year-old boy was fatally stabbed near the Alster lake bridge in Hamburg. His girlfriend who was thrown into a lake by the assailant swam to safety.
On October 20 IS claimed responsibility for the killing through their news site Amaq however, following an investigation, police later said any links to the extremist group were unlikely.
READ MORE: 19 months of terror: Savage throat-slitting of priest the latest attack to rock France


You can share this story on social media: