Aleppo Twitter girl Bana al-Abed evacuated from war-torn city (VIDEO)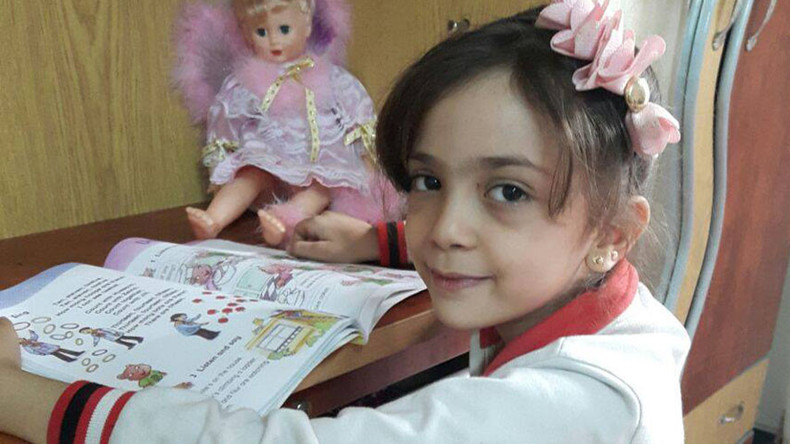 Seven-year-old Bana al-Abed who gained hundreds of thousands of Twitter followers for tweeting from besieged eastern Aleppo, has been safely evacuated.
The young girl was among the first groups of people to be transferred from the Syrian city after evacuations resumed on Sunday evening.
Bana's account, which has been verified by Twitter, was set up in September and has since gathered more than 300,000 followers, along with global media coverage.
The tweets, purportedly written by both Bana and her mother, Fatemah, depicted life under siege in eastern Aleppo. Her home was destroyed, but now she and are family are safely out of the city and are with humanitarian agencies in Rashidin in Aleppo province.
"Me and Bana want to tell all the world how much all people in east Aleppo are suffering from bombs," Fatemah said after they were evacuated.
"There is no life there. So we create our twitter to tell all the world what's happening there. We are happy because our voice reached to all the world."
"I am sad because I leave my country. I leave my soul there. I want to take our freedom there not be like a refugee in other countries," she added.
"I want for my kids a good future but this is the matter here because they make us leave our country. We can't stay there because there is a lot of bombs and no clean water no medicine."
However some have raised questions over a possible agenda behind the Twitter account. Despite the understandably faltering internet connection in the city, Bana's account was regularly tweeting and posting videos.
The army got in, this could be our last days sincerely talking. No Internet. Please please please pray for us.- Fatemah #Aleppo

— Bana Alabed (@AlabedBana) November 27, 2016
News verification company Storyful has also made efforts to verify the account. "The mother, who says her name is Fatemah, has sent Storyful photos of her daughter, not pictured on the Twitter account," Global News quoted Storyful.
"The photographs tally with the images shared on Twitter. Fatemah shared a photograph of her passport with Storyful, which corroborates her identity. The passport lists her birthplace as Aleppo," Storyful said.
At one stage the account was deactivated, leaving her supporters distraught as they believed she had been killed. The hashtag, #WhereIsBana was used as people hoped for good news.
However, the next day the account was re-activated along with a tweet saying that the young girl was fine.
Within two days of setting up the account, she had used #HolocaustAleppo, #MassacreInAleppo, #StopAleppoMassacre and tweeted at Russian President Vladimir Putin, US President Barack Obama and Syrian President Bashar Assad.
The account says Bana's mother, Fatemah, is a teacher and her father, Ghassan, works for the "legal department of the local council," the Telegraph reports.