Dildo defense: Sex shop workers use adult toys to fight off armed robber (VIDEO)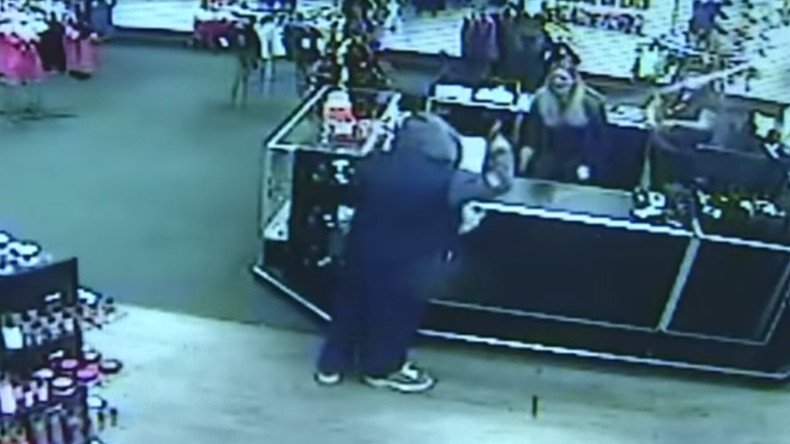 An armed robber got more than he bargained for when female workers at a sex shop that he was attempting to hold up fought back by hurling dildos at him.
Surveillance video from the San Bernadino, California sex shop Lotions and Lace shows an armed masked man attempting to rob the erotic store on Wednesday night as the staff was about to close up for the day.
READ MORE: Jesus, Mary and dildos! Spanish sex shop threatened over erotic nativity display
In the footage, one of the store's employees unexpectedly starts yelling furiously at the robber as he is pointing a gun at her.
The other gutsy employee then proceeds to pelt the gunman with dildos, forcing the him to leave the store empty handed.
"I saw the gun and I thought, really, I don't have time for this. I was just really irritated that he had the nerve to come into the store that I'm to watch and manage and pull this," one of the store employees, identified only as Amy, told ABC 7.
The sex-shop worker said she didn't believe the gun was real and at no point feared for her safety while confronting the perpetrator.
The store owner, Janel Hargreaves, said she returned to the premises to find sex toys scattered all over the floor.
"It blew me away! They're launching them all the way from the cash register all the way up to the front door. It just blew me away that they took it into their own hands," she said.
Police have released CCTV footage of the incident in an effort to find the suspect. It's still not clear if the gun involved in the incident was real.
You can share this story on social media: