Chinese imperial seal from 18th century sells for record $22mn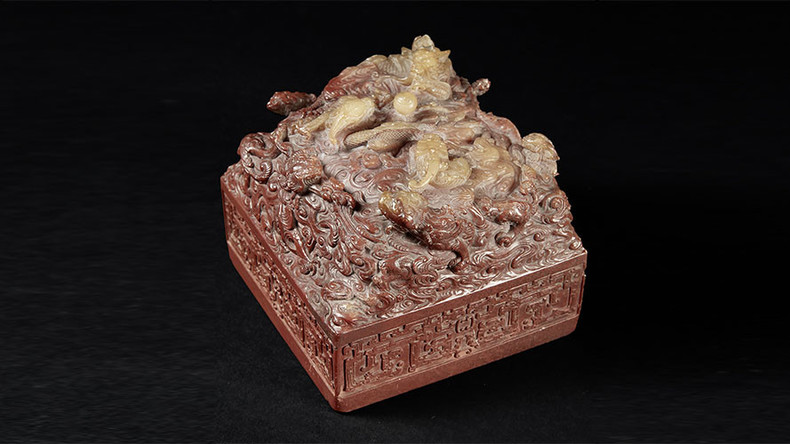 A Chinese imperial seal from the 18th century has sold for a whopping $22 million at an auction in Paris.
The item, which sold for more than 20 times the estimated price, was purchased by an anonymous Chinese collector in France's Drouot auction house, according to AFP.
The seal which was at the center of a heated battle between both bidders on the telephone and at the auction house, belonged to Chinese Emperor Qianlong who is believed to be the longest serving emperor in the country's history.
Moreabout the Land of Extreme Happiness in Beihai Park, Beijing. Qing Emperor QianLong built it for his mother to pray for her happiness. pic.twitter.com/xgg5CDxQim

— China Buddhist Cul (@lily69586841) December 12, 2016
Under Emperor Qianlong's leadership, culture flourished in China and his long reign resulted in the Qing Empire reaching its most prosperous era, with the country's economy and population being boosted.
The sides of the seal are decorated with nine dragons that resemble the emperor's authority and masculinity, the auction house told AFP.
Emperor Qianlong's reign led to the increase of the population by around 400 million people as his territory expanded. It was only towards the end of his reign that the country began declining.
The Qing dynasty lasted until 1912.
A young naval doctor obtained the seal in China during the late 19th century and the item had remained in the same family's possession ever since.
The officer had made frequent trips to China and created an impressive collection of artifacts from the region through his "taste, culture and the friendships he was able to build up over the years," the auction house said.
READ MORE: Photo of Chinese artist Ai Weiwei posing as drowned refugee child Aylan Kurdi sparks controversy