Sex doll scandal: Outrage after Chilean minister accepts x-rated gift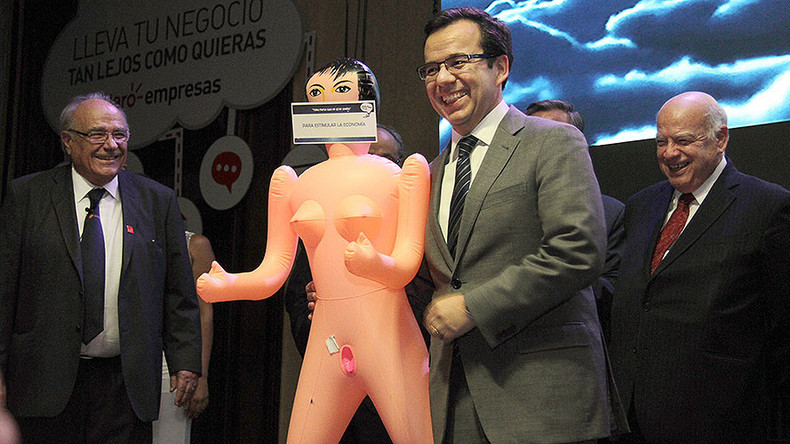 A Chilean minister has apologized after he accepted a gift of an inflatable sex doll at a formal event. Luis Felipe Céspedes was criticized by the country's president after accepting the early Christmas present.
Céspedes was presented with the sex doll at a dinner hosted by the Association of Exporters and Manufacturers (ASEXMA) on Tuesday night. Taped across the doll's mouth was a card that read "to stimulate the economy."
Images taken at the dinner showed the minister of economy, development and tourism smiling while posing for pictures holding his new present.
Not everyone was as happy with the gift as Céspedes, with social media users branding it "shameful" and "offensive to all of Chile," as well as having "attacked the dignity of women."
"The struggle for respect for all women has been a guiding principle of my two administrations. What happened at the dinner of Asexma cannot be tolerated," Chilean President Michelle Bachelet, the country's first female president, tweeted on Wednesday in response to the outrage.
La lucha por el respeto a la mujer ha sido un principio esencial en mis dos gobiernos. Lo ocurrido en la cena de Asexma no se puede tolerar.

— Michelle Bachelet (@mbachelet) December 14, 2016
Following Bachelet's tweet, Céspedes issued an apology at a press conference, telling reporters "I was taken by surprise, and my reaction was not appropriate."
ASEXMA President Roberto Fantuzzi has a reputation for handing out bizarre gifts to guests at the annual dinner. Senator Alejandro Guillier, who is expected to run for president in 2017, was given a hobby horse to help him "catch up with other candidates."
Guillier, who posed alongside Céspedes and his gift, took to Twitter after the event to express regret at the incident, saying he "condemns all kinds of discrimination and violence based on gender."
Lamentamos incidente en @Asexma Condenamos todo tipo de discriminación y violencia de género, incluso la simbólica

— Alejandro Guillier (@SenadorGuillier) December 14, 2016
Fantuzzi also took to social media to apologize, saying he had "a wife, daughters and granddaughters, it was never intended to generate violence against women."
It is unknown if Céspedes is still in possession of the gift.
READ MORE: Sex doll selfies by bachelor party at Ground Zero blow up the internet on eve of anniversary