Knifemare before Xmas: Vandal caught stabbing giant inflatable snowman on CCTV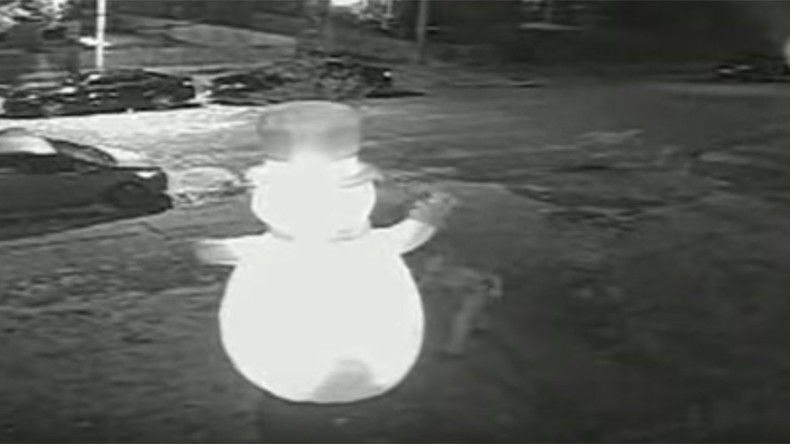 A quiet residential street in St Louis may now be a snow-go area for inflatable Christmas decorations after a man was filmed stabbing a giant blow-up snowman.
The cold-hearted knife attack on the defenseless garden ornament happened last week. It was captured on a Soulard home surveillance camera.
In jest, the snowman's owner Jeff Diggs has now set up a GoFundMe campaign describing how Frosty was stabbed in the abdomen "in a 'mob hit' style assault."
It includes CCTV of the brazen act of vandalism, depicting a man plunging a sharp object or knife in the belly of the plump snowman before trying to cut a rope holding it upright.
READ MORE: Turkey breast? Topless PETA protester poses as poultry slice in Christmas demonstration
"Frosty received a total of nine stitches from the stabbing. He is doing well and recovering from his injury," the fundraiser page jokes.
"He insisted on going back to work immediately because he believes in the magic of the holiday season and hopes that all people will come together and learn to love and respect each other regardless of our differences."

All proceeds from the campaign will go towards a children's charity.
READ MORE: Swastika-looking snowflakes pop up at Latvian Christmas market

Despite Diggs taking a light-hearted approach to the Grinch-like attack on his property, he described the incident as "senseless".
"We could see a pickup truck come down the street, a passenger jumped out [and] you can see him run up to the snowman here and shank it," Diggs told Fox2Now St Louis.
"It's just mean spirited, it's silly vandalism," he added.