Black Death 'plague pit' with 48 skeletons uncovered in England (PHOTOS, VIDEO)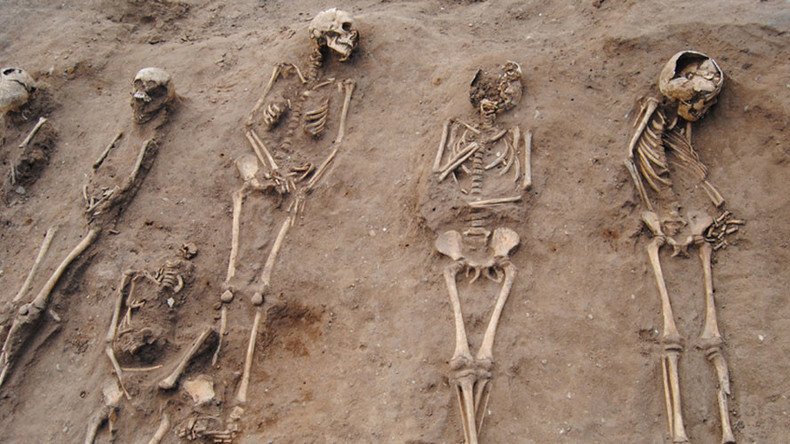 A mass grave of bubonic plague victims has been uncovered at a medieval monastery in what archaeologists are calling an "extremely rare" example of a plague pit in Britain.
Archaeologists from the University of Sheffield made the gruesome find during a dig at Thornton Abbey, a former Augustinian monastery dating back to the 12th century.
Researchers had been anticipating uncovering further evidence of a medieval hospital at the historical Lincolnshire site. Instead, they discovered a rectangular pit containing the bodies of 48 men, women and children who all showed signs of the bacterial infection which wiped out millions during the 14th century plague epidemic.
According to Dr Hugh Willmott of the University of Sheffield's Archaeology Department, large burial sites for bubonic plague victims is "extremely rare".
The rows of bodies, including the remains of 27 children, suggest that the nearby rural community was unable to cope with the highly infectious disease, which swept through Europe in the 1300s.
READ MORE: Second secret pyramid found inside ancient Mayan temple (PHOTO)

Pulp from the skeletons' teeth revealed the presence of the bacteria 'yersinia pestis', confirming the Lincolnshire inhabitants' horrific demise from the plague, thought to have arrived in the area around 1349.
A tiny pendant thought to cure disease was found among the skeletons, Dr Willmott added.
"It is a Tau Cross and was found in the excavated hospital building. This pendant was used by some people as a supposed cure against a condition called St Anthony's fire, which in modern day science is probably a variety of skin conditions."
Researchers from the Sheffield university hope to figure out more about the individual lives of those buried in the plague pit.
"Once the skeletons return to the lab we start properly learning who these people really are," Dr Diana Mahoney Swales said.
"We do this by identifying whether they are male or female, children or adults. And then we start to investigate the diseases they may have lived through."
You can share this story on social media: