Tennis ball-size hailstones & 6,000 lightning strikes pummel Australia (VIDEOS, PHOTOS)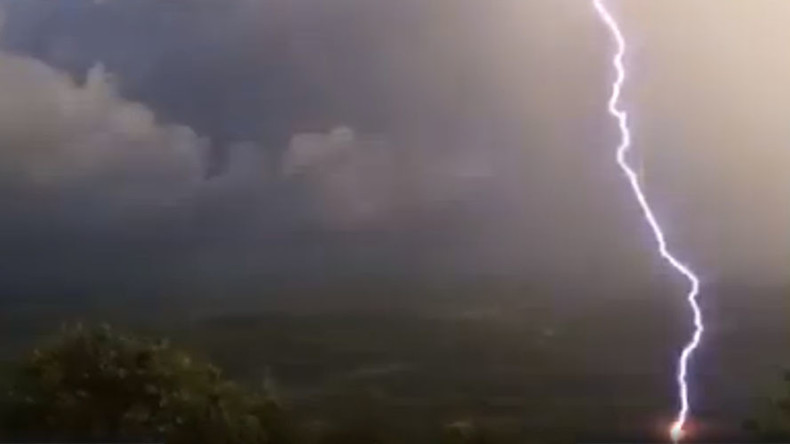 Australia's east coast has been blitzed with a barrage of intense weather phenomena, including more than 6,000 lightning strikes and hailstones the size of tennis balls.
The freak conditions struck the coast of Queensland earlier this week, prompting Australia's Bureau of Meteorology to issue a series of "severe" weather warnings.
Electricity supply company Energex recorded more than 6,000 ground strikes of lightning on Wednesday alone and more than 3,900 properties losing power.
UPDATE 6PM: 6730 without power 36 wires down 6123 lightning strikes. Thx for your patience as we work to restore power across the network

— Energex (@Energex) November 30, 2016
The severe weather has now gone on for two days. On Wednesday a woman was struck by lightning and a teenager was hit by a falling tree, ABC News reports.
People in the affected area took to social media to post videos and photos of the extreme weather as it battered their homes. ABC reported that the State Emergency Service was called to at least six homes across south-east Queensland due to hail and rain damage.
The Bureau of Meteorology lifted the warnings as night fell on Thursday, however many people are still left without electricity as crews continue to deal with fallen trees and power cables as well as other structural damage.
READMORE: Death toll from freak 'thunderstorm asthma' rises in Australia, up to 8,500 people hospitalized
Late last month, several people in Melbourne died from asthma complications reportedly linked to the rare combination of a thunderstorm coupled with a high pollen count in the area.