Biscuit-dunking bungee world record? No problem, Belarusian dips potato pancake in cream mid-air
Published time: 28 Nov, 2016 18:26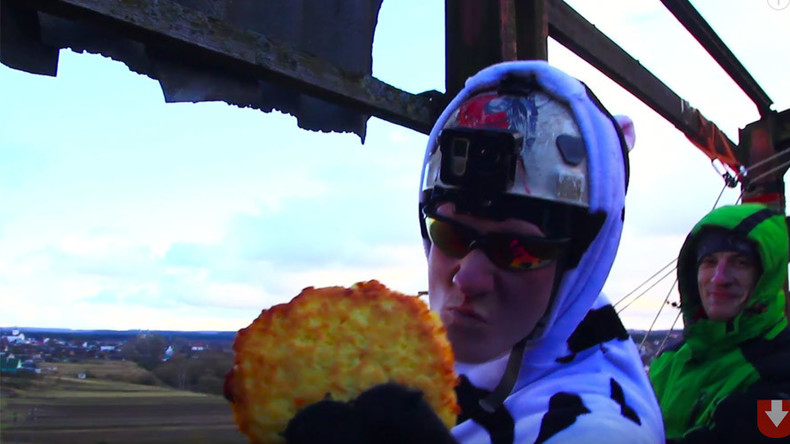 When Simon Berry broke a Guinness World Record by dunking a biscuit while jumping from 73 meters, he was taking Britishness to extremes. Nikolay Glasovskiy, a Belarusian bungee instructor, has produced a culturally appropriate response.
In a viral video that appeared Monday, Glasovskiy, who lives in Minsk, can be seen donning a cow fur suit, grabbing a dranik – a traditional Eastern European potato pancake - and climbing up to a 25 meter platform. He then plunges down, hitting a tray filled with sour cream, the preferred dranik condiment, dead on, and eating the local delicacy, while still upside down, suspended by his feet.
No Guinness World Records officials were present, as dranik-dipping is not an official discipline.
The humble dranik itself is claimed by Belarusians as a national dish, though is present throughout the region, and is a direct relative of the latke, the Jewish potato pancake that likely migrated across the Atlantic together with Ashkenazi Jews, who had been widely settled in Poland and Belarus prior to World War II.
The stunt produced a mixed response online. While some proclaimed Glasovskiy a true patriot, others wondered if he should have been dressed up as a potato, and the man holding the sour cream as the cow, and others still urged him to come up with a stunt that hadn't been done before, or at least to jump from a greater height than Berry.