Tiger cub befriends ferret in cutest possible way (VIDEO)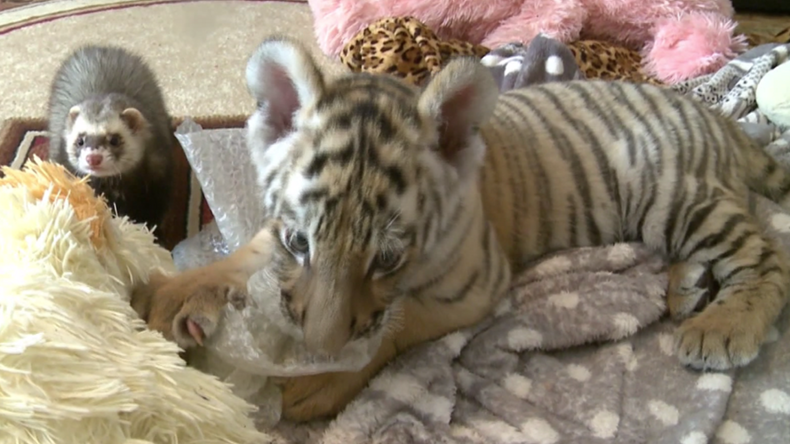 Watch this two-month-old tiger play with his ferret friend at the Primorski Safari Park's in-house care in Russia' Far East.
Shere Khan is the son of Amur the tiger, who hit headlines after he made friends with a goat named Timur at the same park back in 2015.
Shere Khan was born on September 18 and taken into in-house care because he was very weak.
There, he met a ferret named Rocky that has no fear of Shere Khan, who despite being very young, is still twice Rocky's size.
In fact the ferret is so fearless that he even tries to steal the tiger cub's food.
"You cannot come to him when he is eating, especially if it is a meat bone or a rabbit leg. You cannot take it away from him… He attacks, trying to defend his prey, so to speak. He even tries to fight the ferret because he [the ferret] is impudent and tries to take his food." Vasilina Tataurova, the veterinarian at the Primorski Safari Park taking care of Amur's son, told RUPTLY.
Sher Khan is feeling much better now after in-house treatment.
"He became a healthy and active cub. He will stay here for one more month before moving to the park and joining the other tigers," Tataurova said.
So hopefully, Rocky won't get himself in the same trouble as Timur the goat, the "friend" of Sher Khan's dad, who learned his lesson the hard way.
READ MORE: Trouble in paradise: Amur the tiger mauls 'roomie' Timur the goat (VIDEO, PHOTOS)
Watch the full video: