Revolutionary lover: Fidel Castro's clandestine affairs & secret CIA liaison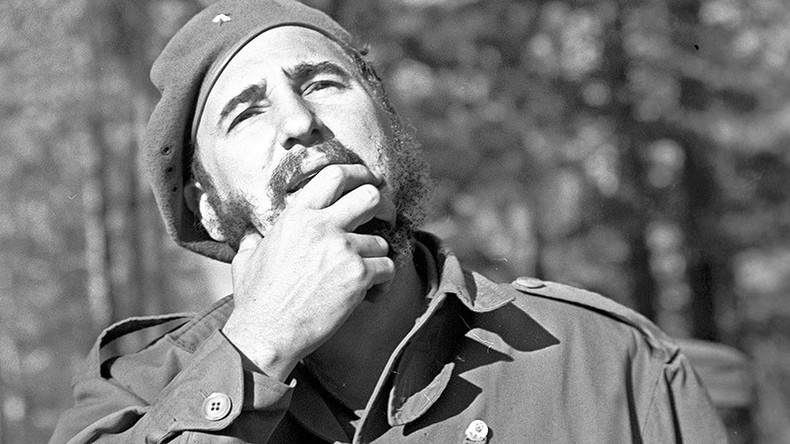 In public, Cuban leader Fidel Castro frequently made it known that his country was the closest thing to his heart. But in truth, the man who shaped the Caribbean nation for almost six decades had many loves outside of socialist politics, including a near-fatal dalliance with a CIA agent.
CIA agent turned undercover lover: Marita Lorenz
In what sounds like an incredible spy movie plot, one of the most controversial women in Fidel's life was a CIA informant. Thought to have been sent by the US government to kill Castro, Marita Lorenz allegedly couldn't pull the trigger because of her love for him.
Marita Lorenz reportedly had an affair with Castro in 1959. The Cuban revolutionary leader survived more than 600 assassination attempts – one of which was believed to have been from Lorenz in 1960. She reportedly tried to feed poisoned pills hidden inside a pot of cold cream to El Comandante.
The potentially fatal trick was busted by Castro himself.
"I thought he was going to shoot me, but he gave me the gun and asked, 'did you come to kill me?'" she recalled, as cited by the Daily Mail. "Then he took a puff on his cigar and closed his eyes. He made himself vulnerable because he knew I couldn't do it. He still loved me and I still loved him."
She reportedly dropped the gun, unable to shoot her lover.

Cuban marriage crisis: Myrta Diaz-Balart
The only known official wife of Castro, Myrta (Mirta) Diaz-Balart came from a wealthy political family. The daughter of Rafael Jose Diaz-Balart, a prominent Cuban politician and mayor, Myrta met the future leader of Cuba while poring over philosophy studies at the University of Havana.
The pair married in 1948 and had a child – Fidel Angel 'Fidelito' Castro Diaz-Balart – a year later.
However, in 1955 the marriage turned sour and Myrta divorced Castro. She went on to marry rival, Emilio Nunez Portuondo, a staunch supporter of Fulgenico Batista, whom Castro would overthrow during the Cuban Revolution.
Diaz-Balart lived in Spain with her family for many years, while Castro Jr. studied in the USSR. She returned to her homeland of Cuba in 2006, after 40 years in exile.

The aristocratic affair: Natalia Revuelta
Castro met aristocrat Natalia Revuelta in the 1950s while he was still married to Myrta. Natalia, also known as Naty, donated money and actively aided Castro and his opposition movement. She was also married to a distinguished surgeon.
According to the New York Times, Castro and Revuelta exchanged letters "filled with passion and intellectual fervor." Naty and Fidel's discussions touched upon philosophy and revolution, political discourse and power.
"I am on fire," Castro wrote to her in 1954, as cited by NYT. "Write to me, for I cannot be without your letters."
Natalia had a daughter with Fidel in 1956 – Alina Fernandez. However, it turned out that sometimes the apple does fall far from the tree: Alina has been openly critical about the government of Cuba.
In 1993, she left the island using false papers and now lives in the US.
Clandestine love interest & rumored wife: Dalia Soto del Valle
Little is known about Dalia Soto del Valle, who was rumored to have been Castro's companion since the 1960s. According to Cuban media, the couple had five boys between 1962 and 1974 – Antonio, Alejandro, Alexis, Alexander "Alex", and Angel. Castro also reportedly married her in secret in 1980.
For decades, Cubans didn't know about Castro's companion – she appeared on Cuban TV for the first time in 2001.
'Almost a tribe': Numerous lovers & illegitimate children
Overall, Castro is believed to have had many more lovers – and children.
The 2009 book, "Without Fidel: A Death Foretold in Miami, Havana and Washington", by Ann Louise Bardach claimed Castro fathered at least 10 children – a claim the Cuban did little to deny.
In a Vanity Fair interview back in 1993, Castro was asked how many children he had. Answering, Castro smiled and said, "almost a tribe."