Jetpack trio swoop alongside French Air Force jets (VIDEO)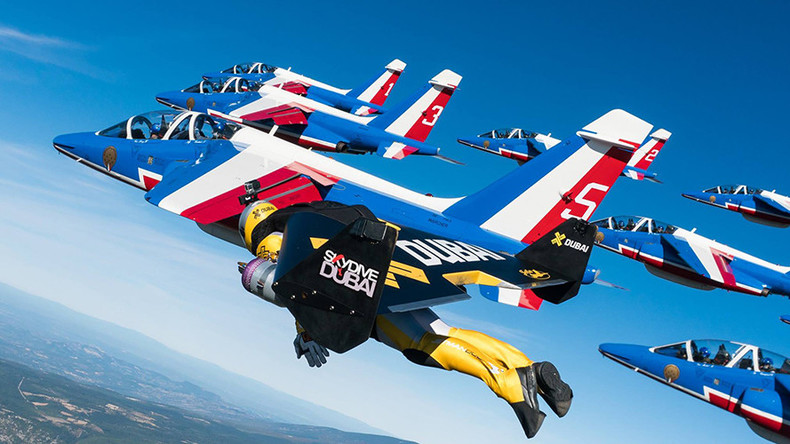 Jetman Yves Rossy has already flown alongside an A380 Airbus and, in a new video the Swiss daredevil, he tests his incredible carbon fiber wings against a fleet of French Air Force planes.
The military-trained pilot flew with fellow jetmen Vincent Reffet and Fred Fugen in a tight-knit and unprecedented formation flight with the Patrouille de France (PAF) team.
The three thrill-seekers jump from a helicopter before swooping alongside eight PAF aircraft emblazoned with the French tricolor.
Wearing specially-designed 150kg (331lb) jetpacks, the men can reach speeds of up to 300kph (188mph). During the trio's stunt, they were able to keep pace with the aerobic unit of the French Air Force and came within meters of the aircraft.
Rossy told 20mins France that, although they plan their flights meticulously, the Jetman always carry two parachutes in case of a crash.
Commander Christophe Dubois, leader of the Patrouille de France, said the one-of-a-kind October flight was a fantastic collaboration.
"What a fantastic experience for us, the pilots of the air force, to have been able to fly on patrol with men," Dubois said.
Rossy has carried out a series of similar stunts in the United Arab Emirates, where he and a partner escorted a jumbo passenger jet across the skies of Dubai.