Schiaparelli plunged into Mars after 1-second error triggered premature landing sequence – ESA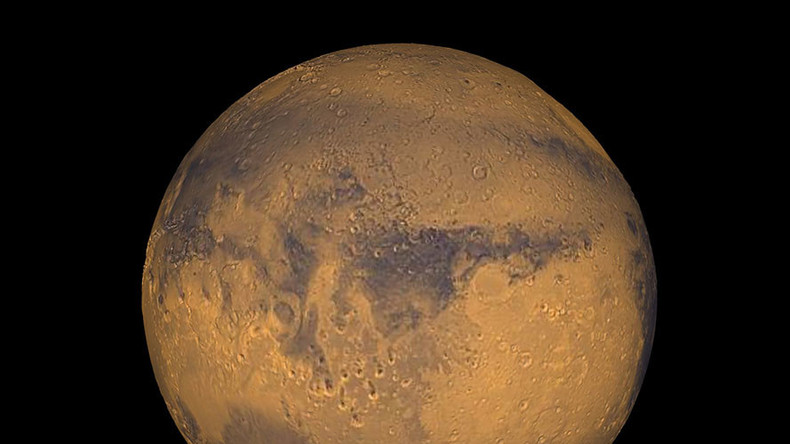 The European Space Agency has released some insight into the catastrophic crash of Schiaparelli on Mars, which seemed to have been caused by a sensor glitch that lasted about one second and forced the probe to miscalculate its altitude.
Schiaparelli probe crashed and scattered on the red planet while attempting a landing on October 19. The joint mission of the European Space Agency (ESA) and the Russian space agency Roscosmos was intended to provide confidence for future Mars exploration, but scientists remain hopeful that they can learn from their mistakes.
In a statement, the ESA explained that Schiaparelli's descent onto Mars went to plan until the Inertial Measurement Unit (IMU) saturated (reached its maximum measurement) as it merged into the navigation system.
READ MORE: Lost Mars lander fell 2-4 km, destroyed on impact – NASA images
For "about one second" the system generated an "erroneous" estimation that the spacecraft was below ground level, when it was actually still around 2.2 miles (3.7 km) above Mars' surface.
The short glitch was enough to trigger Schiaparelli's premature reaction to having either landed, or being close to land. Resulting in the release of the parachute and backshell, a brief firing of the braking thrusters and an activation of the on-ground systems.
The preliminary report is a result of the technical investigation, a "full picture" is expected in early 2017.
READ MORE: Fate of Mars Schiaparelli lander revealed in hi-res NASA images
The ESA team are no doubt hoping the findings will close a somewhat embarrassing chapter for the space agency, who are hoping to secure €300 million ($316mn) from member states to help fund its 2020 Mars mission with Russia that will search from past or present life on the red planet.
"We will have learned much from Schiaparelli that will directly contribute to the second ExoMars mission being developed with our international partners for launch in 2020," said David Parker, ESA's Director of Human Spaceflight and Robotic Exploration.
The ExoMars mission, the second half of the ExoMars program, features a European-built rover vehicle, that will be launched and landed by Russia. ESA governments are scheduled to discuss the funding during a meeting in Lucerne, Switzerland on December 1 and 2.