South African pastor condemned for 'healing' HIV and cancer with insecticide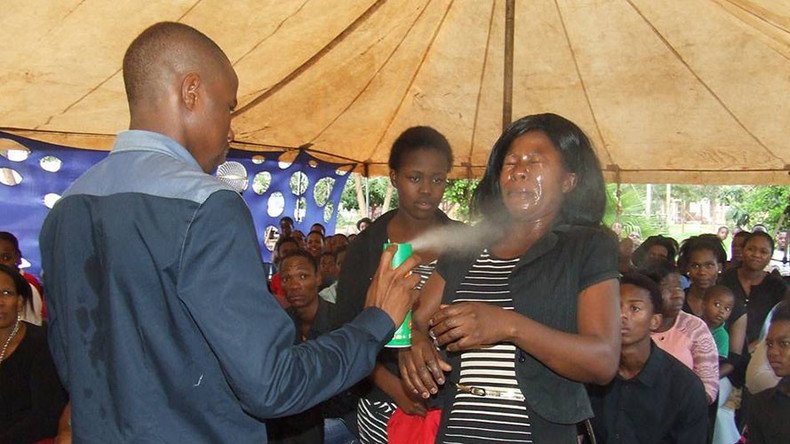 A South African pastor who has been dubbed the 'Prophet of Doom' has been slammed by a group representing 88 denominations and churches for spraying his congregation with insecticide, claiming it can heal cancer and HIV.
Self-proclaimed prophet Lethebo Rabalago has been using an insect spray called 'Doom', spraying the product into people's eyes, among other body parts, claiming it can heal individuals from several diseases.
People are calling the South African pastor who sprayed his flock with insecticide "Prophet of Doom" 😂😂😂😂😂😂😂😂😂

— Acan Innocent (@InnocentAcan) November 22, 2016
Images of the pastor, who runs the Mount Zion General Assembly church in Limpopo province, were uploaded to social media and showed Rabalago spraying the insecticide directly in the faces of his congregants.
Despite the controversy, the 24-year-old pastor defended his actions and he was "glorifying God" with his actions, according to local news site Herald Live.
"It's not a matter of inspiration," he said. "When one is inspired you are copying. It's not a matter of inspiration. No one inspired me. I just believe in God for anything. We can use anything that you believe to heal people."
A group called Freedom of Religion SA (FOR SA) which represents the 88 major denominations and churches in the country called Rabalago's actions "unlawful and illegal".
"While we believe that the Bible teaches that the Lord Jesus Christ healed people of all manner of diseases and ailments during His earthly ministry' He always did so in a way that protected their dignity as human beings made in the image of God," the group said.
READ MORE: American pastor banned from South Africa for anti-gay comments
"On no occasion did He act in a way that caused physical harm to people or further endangered their health. As such' these reported actions are completely contrary to both biblical teaching and practice."


You can share this story on social media: