National Registry of White Males: Woman sets up database to register America's 'greatest threat'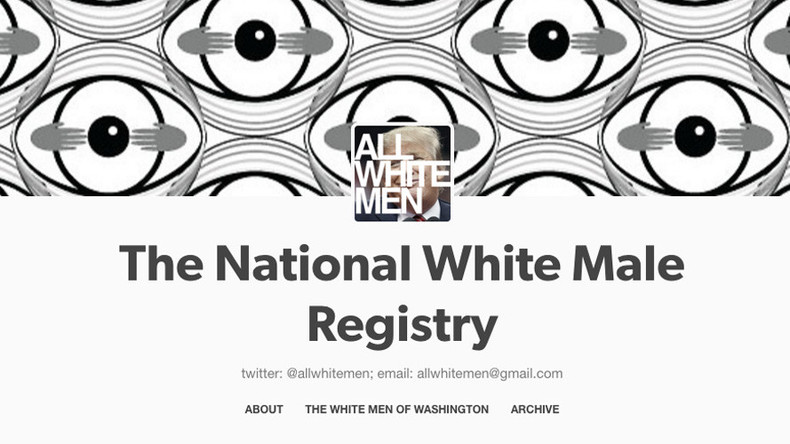 Inspired by President-elect Donald Trump's proposal to create a national registry for Muslims, one woman decided to start her own such database – for white men.
White Male? Do your part and register yourself with the National Registry of White Males to keep our country safe. https://t.co/TiREVyT9dX

— Barry Threw (@barrythrew) November 18, 2016
Going off mass murder data, let's have a registry of white male Christians. FBI: 94% of attacks were by non-Muslims. #notmypresident

— Dusty Sheldon (@DustySheldon) November 19, 2016
"Forget the nation of Islam, our most immediate threat to domestic security is and always has been white, straight men," Candace Thompson wrote in a Facebook post. "That is why I have decided to do my part as a Red Blooded Patriot by creating The White Male Registry."
Thompson was inspired to create the registry following appointments made by Trump's transition team and talks of a registry for Muslims in the US.
READ MORE: It's official: Flynn, Pompeo and Sessions in Trump's cabinet
"As you may or may not know, in America 57% of reported rapes and 64% of mass shootings were committed by white men," she wrote. "Forty-five percent of all serial killers are white men. 1 in 3 women will experience some form of domestic violence during their lifetime, and 97% of those domestic violence perpetrators were men."
"According to a Newsweek article from earlier this year, Right Wing Extremists pose a greater threat to National security than ISIS, and in the past week alone The Southern Poverty Law Center has registered over 400 reports of hate crimes enacted in the name of the nationalist, racist, and sexist campaign rhetoric espoused by Donald J Trump."
A year ago, Trump said he would "certainly implement" a database to track Muslims, but, since winning the election, his communications head, Jason Miller, has claimed that the president-elect had "never advocated for any registry based on religion."
However, Kansas secretary of state Kris Kobach, who is thought to be a key member of Trump's transition team, told Reuters that the team has, in fact, discussed a proposal to create such a registry.
The White Male Registry features a number of questions including, "have you ever made a derogatory comment about a marginalized group to another white male?"
Thompson said it has received over 700 entries so far and found that about half the respondents answered genuinely.
"I'd say it's about half and half as far as replies go," she told the Huffington Post. "A lot of genuine responses that are humble and honest, and then a lot of hateful ones."
The registry is voluntary up until January 20, at which point Thompson says "anyone and everyone" can register men "they may personally perceive as a threat to their safety."
As well as registering Stephen Bannon, Trump's pick for White House chief strategist, and Jeff Sessions, the soon-to-be US attorney general, Thompson also sent a message to Trump himself after placing him on the list.
"I sincerely hope that we have the chance to meet in person one day so that I can grab you by your most esteemed man-pussy," she wrote, while cautioning "but be forewarned: once I grab it I will never, ever, ever let go."
You can share this story on social media: