Should the anti-Trump celebs who vowed to leave the US if he won now move? (POLL)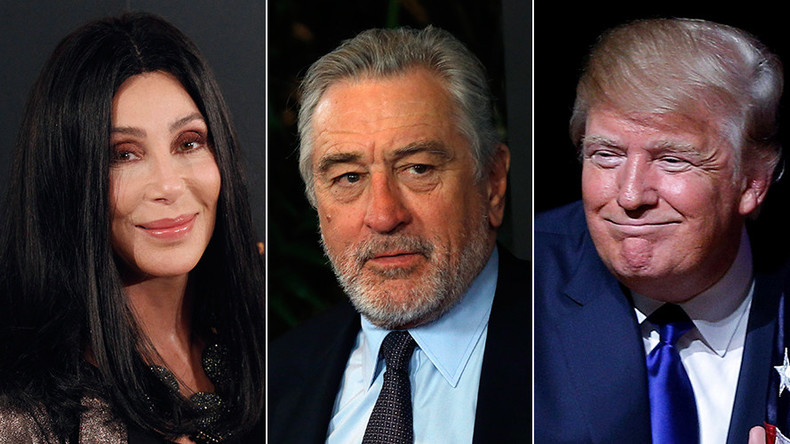 From Australia to Jupiter, numerous anti-Trump celebrities threatened to leave the US should Donald Trump win the presidential election. Now that Trump has triumphed, how are the travel plans of the rich and famous progressing?
Cher
Despite tweeting "IF HE WERE TO BE ELECTED,IM MOVING TO JUPITER" Cher is still very much on Earth and has not become the sole inhabitant of Jupiter.
Cher was amongst a list of celebrities targeted by fake advertisements selling their current homes in light of their proclaimed exile.
Robert De Niro
The 'Raging Bull' and 'Taxi Driver' star who previously called Trump "an idiot" and didn't hold back with how he would "like to punch him in the face," has now been invited to claim asylum in the southern Italian town of Ferrazzano, where his grandparents hailed from.
READ MORE: De Niro, Schwarzenegger clash over US election at event which raises $38mn for IDF
Though it is unclear if Robert De Niro will immigrate to Italy, he clarified after the elections that he "can't punch Trump now, he's the president."
Amy Schumer
Comedian Amy Schumer dismissed earlier claims that she would move to Spain as "said in jest" and plans to remain firmly on American soil.
In a rant on Instagram following Hillary Clinton's defeat, she dismissed Clinton's email scandal as "nothing incriminating" and called Trump a "racist homophobic openly disrespectful woman abuser."
In the days leading up to the election Schumer was very clear on who she supported, calling Trump an "orange sexually assaulting Godzilla" and describing those who chose not to vote as a "steamy dump."
Lena Dunham
The author and creator of the TV series 'Girls' was one of Clinton's biggest celebrity supporters, even making a mock-rap video in support of her candidate. In April she said there was a "100 percent" chance she would move to Canada, cementing her claim with the words "I know a lot of people have been threatening to do this, but I really will."
Since Clinton's loss, she has sought to explain her threat, saying it was made when Trump didn't look likely to win. "And for those demanding I move to Canada based on something I said when this man seemed like a steak salesman with a long shot at the presidency: stay busy reveling in your new regime," she said in an Instagram post.
Miley Cyrus
It appears the biggest turnaround has come from singer Miley Cyrus. Similarly to Dunham, Cyrus said "I don't say things I don't mean!" when she made a vow in March to emigrate if Trump won.
The night of his victory she took to Facebook telling the president-elect, "If you want to open your heart I will give you the key."
"Donald Trump I accept you. I even accept you as the President of the United States because now I want to be helpful," she said as tears poured from her eyes. Given her offer of help it looks doubtful she will leave the country.
Barbra Streisand
"He has no facts. I don't know, I can't believe it. I'm either coming to your country, if you'll let me in, or Canada," Barbra Streisand said on Australian TV in August, making her position on Trump very clear.
Streisand has yet to elaborate and whether she move to either Australia or north of the US border to Canada.
Jon Stewart
At last year's Emmy Awards the former host of 'The Daily Show' said "I would consider getting in a rocket and going to another planet because clearly this planet's gone bonkers," when questioned about a possible Trump win.
The comedian is still in America, with no plans announced to join Cher on another planet.
Bryan Cranston
The 'Breaking Bad' star changed his tune after Trump's win, tweeting "Although shocked and disappointed by the outcome, I hope the pres-elect will work to unify our wounded country. I sincerely wish him success."
Earlier this month Cranston said on the podcast 'The Bestseller Experiment' if Trump won "I would definitely move. It's not real to me that that would happen. I hope to God it won't."
Samuel L. Jackson
"If that motherf*cker becomes president, I'm moving my black ass to South Africa," Jackson said in a segment on 'Jimmy Kimmel Live' in December 2015.
Trump tweeted in retaliation that Jackson was "boring" and does too many TV commercials.
Jackson has not confirmed if he is still planning to move to South Africa.
Tell us what you think. Should the celebrities leave the country after saying they would?