De Niro, Schwarzenegger clash over US election at event which raises $38mn for IDF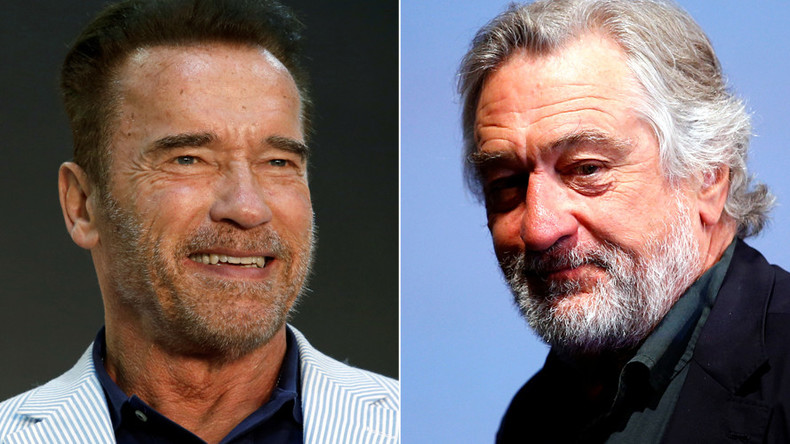 Two of Hollywood's biggest stars clashed about the upcoming US presidential election at a fundraiser for the Israeli Defence Force in Los Angeles.
Robert De Niro and Arnold Schwarzenegger were to pose for a photo together, but began an argument about differing views on the two candidates, Ynetnews reported.
De Niro, a Hillary Clinton supporter, reportedly tried to question the former California governor about whether he supports Donald Trump.
"Are you voting for Trump?", De Niro asked Schwarzenegger, while later telling him – according to Variety entertainment magazine – "If you're not part of the solution, then you're part of the problem."

"If you're supporting Trump, I want nothing to do with you," De Niro is reported to have said.
Schwarzenegger apparently didn't answer to De Niro's satisfaction, and so the two continued to argue despite the photographer's pleas for calm.
The pair shook hands after their exchange.
The Friends of the IDF gala, which raised $38 million, was organized by the Jewish billionaire Haim Saban, considered by some to be Hillary Clinton's "favorite donor."
Joining De Niro and Schwarzenegger at the event, were fellow Hollywood stars Gerard Butler, Julie Bowen, TV personality Larry King and super model Joanna Krupa.
Rabbi Yechiel Eckstein, founder of the International Fellowship of Christians and Jews, donated $6 million. Haim Saban himself donated $5 million, fashion mogul Serge Azria donated $5 million, and brothers Paul and Maurice Marciano, who own the Guess brand, donated $5 million.
You can share this story on social media: