Kayaker filmed hitting sharks with paddle receives online backlash (VIDEO)
Published time: 11 Nov, 2016 18:40
Edited time: 11 Nov, 2016 18:41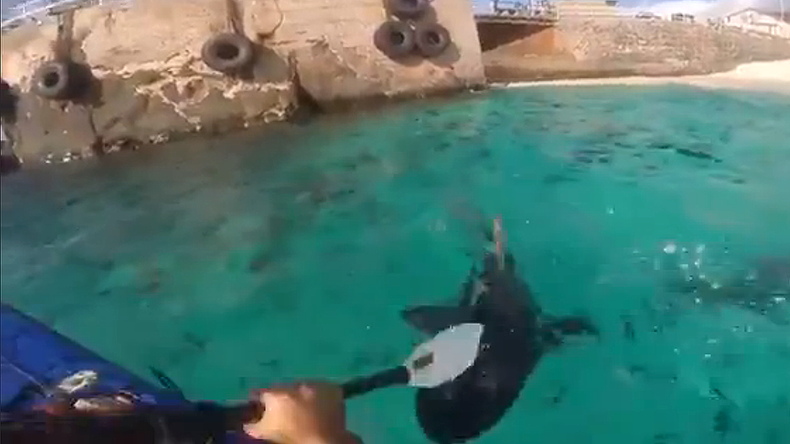 A man kayaking in the South Atlantic became the target of hate after posting a video showing him whacking sharks with his kayak paddle.
Max Miranov was out on the clear turquoise waters of Ascension Island in the South Atlantic, surrounded by sharks looking for food when he got fed up with the creatures hitting off his vessel, so he decided to hit them back.
At first, the kayaker's prodding of the sharks, which he called "amazing creatures" in his Instagram post, could be explained as him wanting them to stop rocking his boat, but as the video progresses, his shark pokes appear to be more violent.
At one stage, Miranov strikes a shark with his paddle and then hits it again as it retreats.
The video quickly drew criticism as people accused Miranov of being unnecessarily cruel.
"He goes to the center of a feeding frenzy and trolls to make them seem aggressive. What a kook!" a commenter said.
People pointed out that he could have paddled away or headed to shore if he was so worried about the sharks.
"Dumb pr*ck. Paddle your little kayak away. If they follow you then bat them away. But don't sit in the middle of their feeding spot and act like a little bitch," one said.
"You're a c***. How dare you hit them with your paddle when you aren't even mildly on danger? Proper f***ing idiot," another wrote.
It wasn't only negative reactions though, with one Instagram user congratulating him on his "courage."
"You did not harm the animal, you just protected yourself," wrote Instagram user pauloizidoro.