'A boy or a girl?' Twitter erupts on election day, mocks Trump for peeking at wife's ballot
Published time: 9 Nov, 2016 02:08
Edited time: 9 Nov, 2016 02:31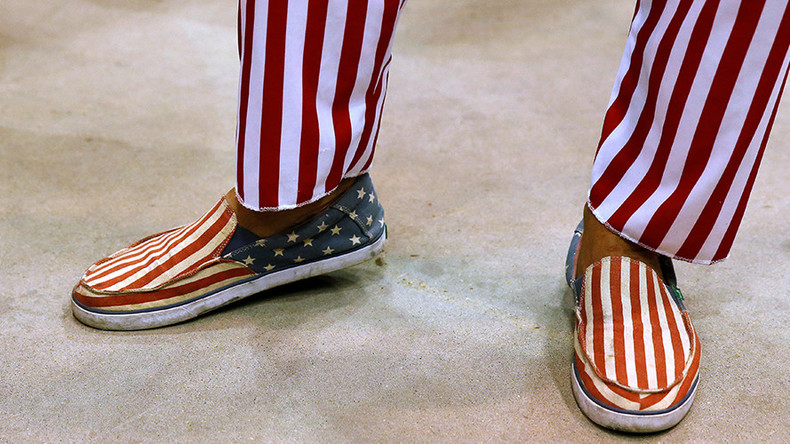 As Americans faced a difficult choice, many voters resorted to humor, mocking the presidential election and its main competitors.
FOLLOW RT'S ELECTION LIVE UPDATES
Donald Trump was the primary target for several American voters who could not contain their laughter.
This morning the Republican Candidate voted at a polling station not far from his Trump tower apartment in Manhattan. With Melania by his side, Donald Trump did not waste time filling in his ballot. Yet, he did not leave the booth immediately.
As Trump stood there, his eyes appeared to land in the neighboring booth, apparently checking Melania's ballot, which served as prime fodder for scamps on social media.
Voting at a different precinct, Trump's son Eric proved that he is of "one blood" with his father, when he was captured apparently sneaking a peek at his wife's ballot.
With just hours left until the first exit-polls, Twitter has been flooded with guesses. To some, the impending result appeared to be as miraculous as a new life.
However, not everyone was as optimistic.
Some have found liquids stronger than expired milk.
While some flooded Twitter with their laughs though tears, this Naked Cowboy grabbed his guitar and speedos to spread his message.
In any case, it seems that no person will be remain indifferent towards election results. We'll just have to wait and see.
But there is certainly going to be a celebration tonight.
Mere hours before a polling station closed in New York, a Donald Trump cake was spotted being escorted by police into Trump Tower in Manhattan, and the internet exploded with laughter, again.
As the authorities on the subject, we can absolutely confirm Satan is not running in the US elections.

— The Church Of Satan (@ChurchofSatan) 9 November 2016