Millions of views: Assange interview to Pilger scores record hits on RT (VIDEO)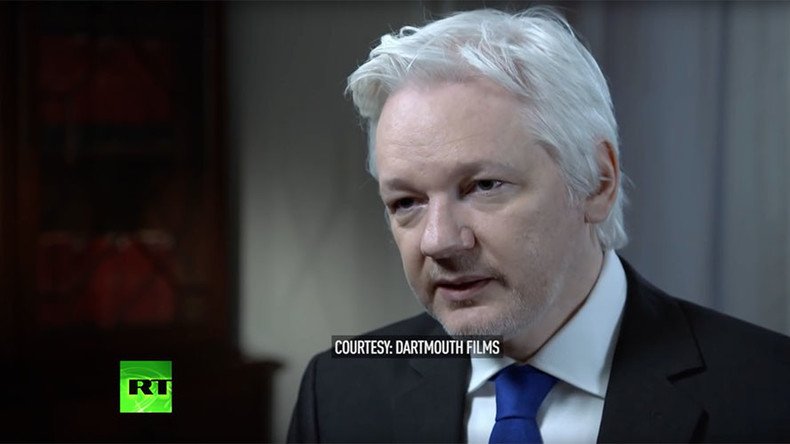 Julian Assange's pre-US election interview with award-winning journalist John Pilger has become the most viral news interview on RT this year, clocking up millions of views across the channel's social media platforms.
The whistleblower sat down with Pilger to discuss the FBI's 11th hour intervention in the Clinton email scandal, his life inside one room, and what he considers to be the "most significant" email from Clinton campaign chair John Podesta.
The incendiary Assange interview has been a roaring hit across the internet.
On Youtube, the exclusive premier of Pilger's meeting with Assange went multi-platinum, so to speak, garnering more than 4 million views.
Assange's claim that former Secretary of State Hillary Clinton knew that US allies Saudi Arabia and Qatar were directly funding Islamic State (IS, formerly ISIL/ISIS), gained almost 600,000 clicks alone.
Meanwhile, the whistleblower's prediction that Trump "would not be permitted to win" the presidential race was viewed by a whopping 1.9 million people on the video sharing website in just four days.
A look at the RT website statistics show a similar upward trajectory, with articles detailing Assange's insights receiving a combined 2 million clicks and provoking thousands of discussions across social media sites such as Reddit, Twitter and Facebook.
Produced by Dartmouth Films, the interview was streamed exclusively on RT's official Facebook channel.
It detailed Assange's view of the US political landscape while also giving an update on his situation inside London's Ecuadorian embassy.
You can share this story on social media: