Voldemort & Dumbledore clash on local Russian train (VIDEO)
Published time: 6 Nov, 2016 17:24
Edited time: 6 Nov, 2016 17:49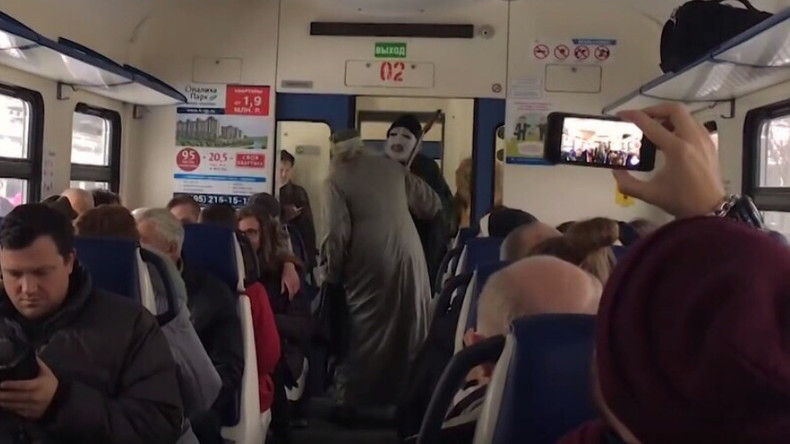 Morning commuters in Russia were recently stunned by an unusual encounter, when they found themselves amid a fierce verbal battle between two Harry Potter characters on a local train.
Despite the two casting some harsh spells on one another, including one intended to drain phone batteries, people on the train traveling near Moscow managed to film the incident and share it online.
In a YouTube video, Albus Dumbledore is seen entering the carriage of a train – which looks nothing like Hogwarts Express. He procures an air freshener from his bag claiming that it's "handy for the chamber of secrets" and offers to sell it to the commuters for a mere 13 rubles (20 cents).
More "useful" things, all claimed to be "certified by the Ministry of Magic," are then offered for sale… before Lord Voldemort emerges from the other side of the carriage.
The masked Dark Lord, who is playing the guitar, promises "to take over Potter" with Avada Kedavra at the ready, while some Russian babushka (granny) in the background is heard complaining that "his words don't make any sense."
Claiming that "this train line is his territory," Voldemort launches himself at Dumbledore, but loses the battle and is kicked out of the view.
Although the good and the bad met in this episode – obviously uniting not only to amuse their audience, but also to boost sales – the train vendors may be in real trouble if caught by police, as their enterprise is illegal in Russia.