'Which one gave you the greatest pleasure?' Kerala rape victim 'humiliated' by police
Published time: 3 Nov, 2016 17:38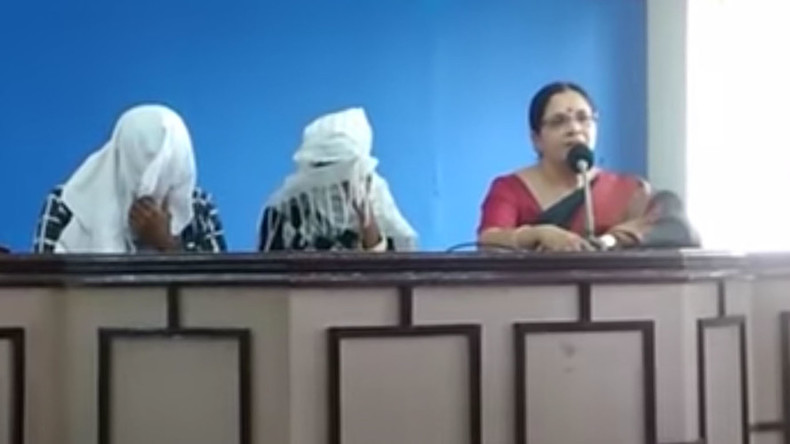 A woman in Kerala, India, who alleges she was gang-raped by her husband's friends, insists she was forced to withdraw her complaint after the police humiliated her and asked, "Which one of them gave you the greatest pleasure?"
"Far more than rape, it was the police threats and humiliation that was unbearable," the woman recounted to press in Thiruvananthapuram on Thursday.
The gang rape occurred two years ago when the woman's husband was away. Four of his friends arrived at her home and pretended her husband was in hospital. She went with them to see him, but the men drove her to a secluded house outside the city where they took turns raping her and recording the assaults.
The men then threatened to make the videos public if she ever told anyone, and that her children would be killed if she went to the police.
The mother of two only told her husband a few months later, and he convinced her to go to the police.
"I was called to the police station for four days continuously and made to sit there from morning to evening. I was asked humiliating questions," she said. "They later gave me a letter to produce before the magistrate and forced me to withdraw the case. They made me sign papers but I don't know what was in it."
The woman shared her story with dubbing artist and activist Bhagya Lakshmi who created a widely shared Facebook post on Monday.
"Answering the questions of the police was a mental rape for me," the woman is quoted in the post. "May be they tortured me mentally because they knew that I had no evidence. It was good that Nirbhaya, Jisha and Soumya died or else they would have tortured them like the Suryanelli girl was with inappropriate questions for the last 16 years."
The viral post led Chief Minister Pinarayi Vijayan to contact Bhagya Lakshmi and promise action.
Both the woman and her husband faced the press with their faces covered to hide their identity.
The woman alleges the police told her how she could change her sworn affidavit and that the rapists harassed and threatened her. When she withdrew the complaint, the harassment continued.
"They threatened to kill my children if I spoke out the truth. When the magistrate asked me if there was any pressure on me, I cried," she said.
One of the accused rapists is a Communist Party of India (CPM) municipal councillor P.N Jayanthan and claims the woman lied to get back at him for demanding the couple pay him back for a loan he gave them.