All in a day's work: Tiger attacks trainer while students look on (VIDEO)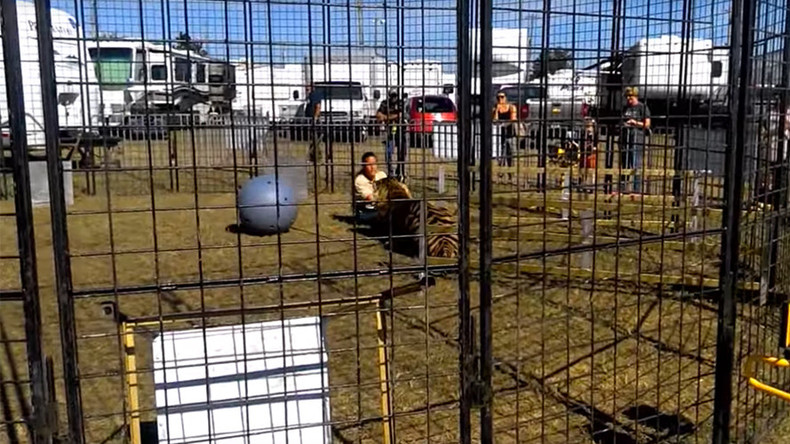 A tiger was beaten with a stick after it dragged its trainer through an enclosure while horrified students and adults looked on.
The women who was identified as Vicenta Pages, was taken to hospital after suffering from a three-inch gash to her knee and a laceration on her ankle.
The incident was captured on video by a student who was on a field trip to the Pensacola Interstate Fair in Florida.
Footage was posted on Facebook and showed the tiger appearing to scratch the woman before she fell to the ground.
Within seconds, the tiger was seen becoming more aggressive as the woman began to panic and repeatedly hit the animal with a rod, but undeterred, it dragged her across the ground.
It's only when David Donnert, Pages' fiance and fellow trainer intervened and hit the tiger with a stick, did it let go of the women. Some Twitter users called the act animal cruelty.
Donnert defended his actions and told ABC affiliate WEAR that "accidents like this sometimes happen."
"We know the hazards of our job, but we love these beautiful animals and Vicenta will be back as soon as she's able," Donnert said.
Fair officials, however, distanced themselves from the incident and said the 'Pages White Tiger Show' was not managed by the company.
"Video shot by an audience member yesterday at a Pages White Tiger Show performance provides a different account of the tiger incident than the statement provided by the Pensacola Interstate Fair," the company said, adding that it "does not condone the mistreatment of animals."
The tiger show has been cancelled while investigators look into the incident.
You can share this story on social media: