#TemporaryBabyJesus: Bizarre replacement statue head captivates internet (PHOTOS)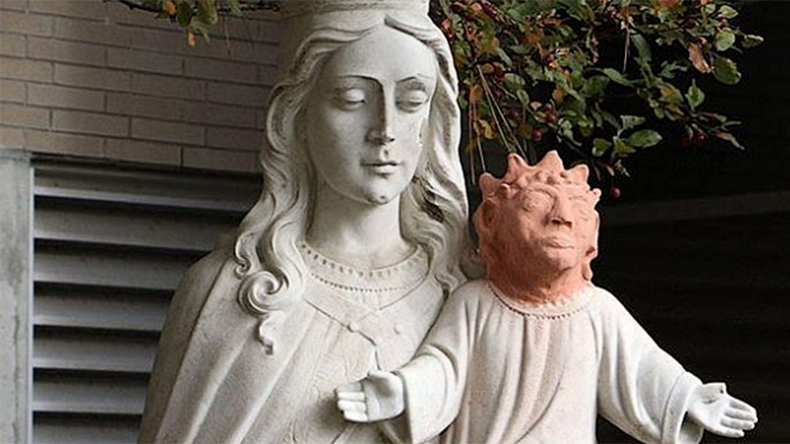 Someone stole the head of baby Jesus from a Canadian church and it was replaced with what can only be described as a bright orange creature with Lisa Simpson-like hair. The internet reacted accordingly.
Vandals had taken the head off the religious statue several times before at Sainte Anne des Pins Catholic Church in Sudbury, Ontario.
When the head went missing yet again a year ago and failed to reappear afterwards, local artist Heather Wise offered to sculpt a replacement.
As they say, no good deed goes unpunished, and when Wise molded a temporary terracotta head as a temporary replacement until the permanent stone head was finished, her work was mocked in epic proportions.
Thanks to the power of internet sarcasm, photoshop skills, and the #TemproraryBabyJesus tag, endless variations on the meme are making their way across social media.
Unfortunately – or fortunately, depending on how you view terracotta – the statue head thief returned the original baby Jesus piece back to the church after seeing the media storm they had created.
READ MORE: Muslim-haters fall for satirical Facebook meme, mistake Harry Potter character for mullah
The anonymous woman who returned the head said the person who took it was "suffering from personal problems," reports CBC. The church's priest, Fr. Gerard Lajeunesse, decided to not press charges.
"It's a happy ending to a pretty crazy week," Lajeunesse told Sudbury.com. "It just goes to show that sometimes the internet works in your favor."
The baby Jesus meme is reminiscent of the Ecce Homo Painting which became known as 'Potato Jesus' after a Spanish pensioner attempted to restore a century-old Spanish devotional fresco.
The botched artwork quickly became a popular internet meme.