'Proof of life': WikiLeaks asks internet for best way to debunk Assange death rumors (POLL)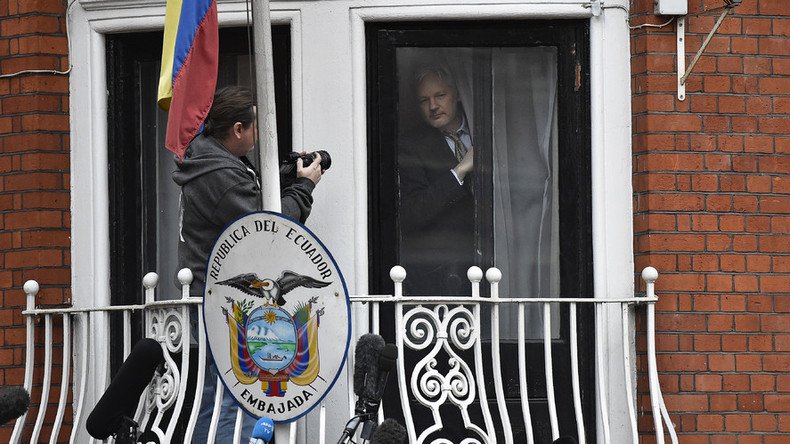 Rumors of Julian Assange's death are still circulating after his internet connection was abruptly cut more than a week ago. Now WikiLeaks is asking the online community what proof it needs to believe their "best known validator" is alive and well.
Amid the swathes of Hillary Clinton campaign team emails being leaked by the controversial whistleblowing organization, speculation was rife last week that the WikiLeaks co-founder had met an untimely and mysterious end.
The rumors stemmed from a supposed "dead man's switch" code tweeted by WikiLeaks and the fact the government of Ecuador had scuttled Assange's internet connection – one of his few means of communication with the outside world.
READ MORE: WikiLeaks Twitter codes spark Assange death rumors

In an effort to dispel the claims, WikiLeaks has posted a poll online asking people what they need as "proof of life".
"Thousands keep demanding proof of life. Not unreasonable. He's in a tough spot and is WikiLeaks best known validator," read a tweet from the organization.
The life-confirming options include: a picture of the Australian, a video, a statement by his lawyers or a public appearance at his window.
Thousands keep demanding Assange proof of life. Not unreasonable. He's in a tough spot and is WikiLeaks best known validator. Preference?

— WikiLeaks (@wikileaks) October 24, 2016
READ MORE: Impacting US election: Ecuador cut off Assange's net because Clinton leaks 'breached impartiality'

Assange is being given asylum at Ecuador's London embassy, over fears rape allegations made against him in Sweden could lead to his extradition to the US to face investigation over WikiLeaks' actions.
For four years his public appearances have been restricted to speaking from the embassy's front window or via video link.
READ MORE: Anonymous claims it took down Ecuadorian govt webmail after embassy banned Assange from internet

I'm ignorant about this but @wikileaks seemingly just released 3 codes to unlock posted files. Dead man's switch? Did they "get" Assange?

— Tom Angell (@tomangell) October 16, 2016
Assange apparently dumped A LOT of Wikileaks at once making people think his "dead man trigger" had been activated.

— Bill Mitchell (@mitchellvii) October 17, 2016
Julian Assange is killed by Hillary? Wikileaks posting Deadman's keys.

— Deplorable Chauncy (@Chauncy778) October 17, 2016
People should be more concerned that Julian Assange may have been forcefully removed from his asylum (or killed) by the US government.

— Kickback (@TokuChris) October 18, 2016
Following the poll, people have been suggesting other ways to convince them Assange has not drawn his last breath, such as getting on a plane to Sweden, twerking, and even footage of the 45 year old "miming the lyrics to comfortably numb by Pink Floyd."
After over 30,000 votes, the video option is currently the leading choice in the poll.
Some commenters have also urged the Australian computer programer to "stay away" from the window because of their belief the high profile thorn in the side of the US government might be assassinated.
@wikileaks No need to go to the Window. Risky. A hi-res video of him holding today's paper is good enough.

— genio da lampida (@geniodalampida) October 24, 2016
You can share this story on social media: