Kidnapper or creep? Man caught on camera grabbing baby (VIDEO)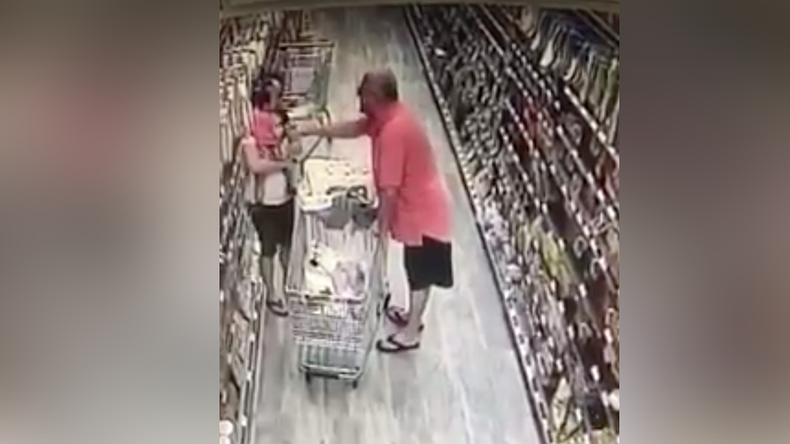 Surveillance cameras from a grocery store in Houston, Texas captured the moment a man may have tried to abduct a baby as the mother was shopping.
In the video, a man wearing a red shirt is seen picking the baby from a shopping cart while the mother is facing the other way, looking at an item on the shelves.
Florence Monauer said she did not know her child was picked up by the man, until she turned around in surprise.
Monauer, who posted the video on Facebook, initially thought the man was "just an over-friendly guy" as she took the baby back into her arms. She described her ordeal in a Facebook post, which has garnered 3.6 million views.
READ MORE: Spine-chilling moment child-snatcher abducts 4yo girl caught on camera (VIDEO)
"I thought he was just an over-friendly guy and maybe he didn't understand what was appropriate and what wasn't," Monauer said. "I didn't want to make a big scene out of it and I generally don't want to assume that people are up to no good."
While Monauer placed her child back into the cart, the man continued to stand and reportedly said, "If your mom wasn't here, I would take you,"KTRK reported.
Monauer finally picked up the baby again and after a few seconds, the unidentified man could be seen walking away.
"I'm so angry with myself for letting him hold her even for a second. The more I thought about it, the more wrong it appeared," she said.
Police in Houston are looking into the incident and said it could be a possible attempted abduction, but the individual involved has not yet been apprehended or charged with any crime.
Facebook users commenting on the post expressed their shock at the incident. One said the man "was a straight up pedophile trying to take that kid," while another commended the mother, saying that "she acted calmly" and "made the right decision."